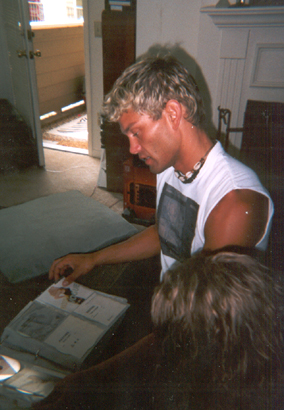 Sean had a great CD collection!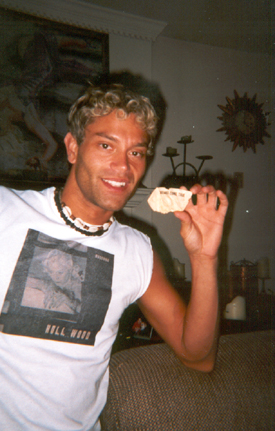 The dreams come true balloon - wow!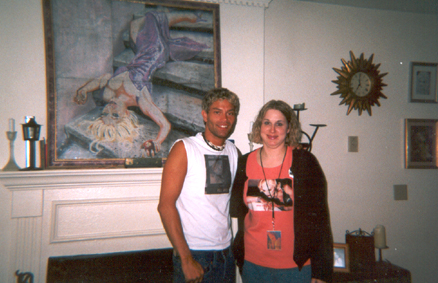 Michelle was happy to see Sean's collection!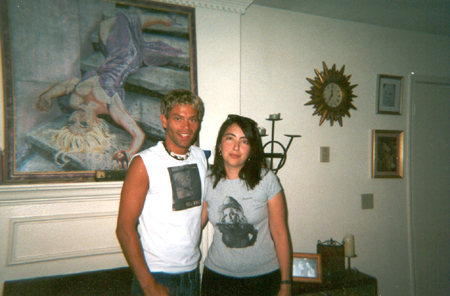 Wear those shirts with pride!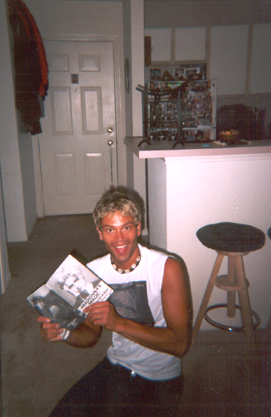 I was jealous of some of Sean's great mags!
Everybody goes to Hollywood! And that's just what the club did for the weekend of July 11th! Starting out on Saturday, my friend Michelle made her way up to Seattle with lots of "Hollywood" memorabilia in tow!
She had made wonderful homemade "Hollywood" shirts, plus signs and cards for promoting the Everybody Fan Club, (even using the catchy phrase, "Everybody comes to Hollywood). We went through everything and did lots of work (making videos, T-shirts, and promo stuff- we need to open our own store!) Michelle also brought up some great video of Madonna impersonator Andria (of mockmaterialgirl.com) for us to watch. Girl, you rock! We can't wait to see your show soon. We made our calls and did our networking and finally, we were ready to get "glam" for the Hollywood party that night at Neighbours.
We went down to Broadway and got into the club, (where they instantly recognized us), and our friend Sean Paul was there waiting for us. We exchanged goodies and proceeded to see what other kinds of goodies we could get from DJ Randy Schlager. I racked up on AL cling and some posters as well as the new Hollywood single, but nothing exclusive for the new song. Later that night, they played the Hollywood video and one remix, but we pretty much bailed after that. We did meet up with a couple of other Madonna fans who we encouraged to join the club as well. After being let down that our one cool 80's club was closed, we headed home for the night.
Sunday was anything but quiet! In fact, it was very busy! Michelle and I started out early so we could hit the record convention that was held that day. While we didn't get a ton of stuff, we did score a pair of Austin Powers stickers and Michelle got some great deals on other stuff. (They did have some rare Madonna vinyl that was hard to pass by) We had lunch and then took off to see our friend Sean Paul in Everett.
Upon arriving at Sean Paul's place, we were greeted with an amazing array of memorabilia and a beautiful mural on the wall hand-drawn of the Diva. Sean had many portraits of his incarnations as Madonna as well as the other impersonator friends to share. We were impressed with his CD collection of rare remixes, shows and outtakes although we stumped him with our "Drowned World" demo. ;)
Later, he showed us a wealth of photos of him as Madonna, MIchael Jackson, Dolly Parton, the list was endless! He signed some photos for us and relayed so many wonderful stories of the shows he has done and the people he has met, (even Boy George!). Towards the end, we took a look at some of his great costumes as the Diva (including the Drowned World top and Music "Ghetto Fabulous" coat) Unfortunately, it was time for us to go, but we had a wonderful time, Sean! Sean is also one of our newest members on the site (check out his profile here) and will soon have an interview and more to share in the Impersonators section. Thanks again, Sean. Hollywood is glam and so are you!
-Mariam Ayub