Sean Paul
Age: 30
Location: Everett, Washington
Email: seannorth72@hotmail.com
Madonna Faves:
Fave Song: Express Yourself
Fave Video: I'll Remember, Oh Father, Music
Fave Movie: Dick Tracy
Fave Album: Music
Fave Concert: Drowned World Tour
Fave Look: 90's era
Fave Memory: Express Yourself live at the MTV Awards!
Fave Quote: "Don't judge a man until you have been standing in his shoes"
Learn more about Sean!
Have you met Madonna? In my dreams, constantly. We're friends. ;)

What is your favorite item in your collection and why?
The Jean-Paul Gaultier "Like A Virgin" outfit from Blond Ambition.

What's a way you show your love for Madonna?
I've been known to become Madge. I'm a Madonna wannabe with the "Bee"!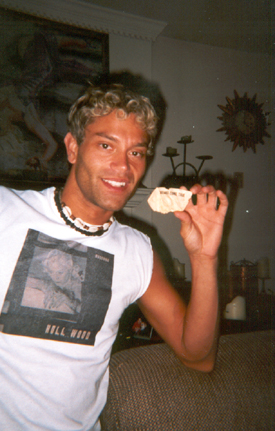 Sean shows off his "Dreams come true" balloon
from the Virgin Tour...lucky!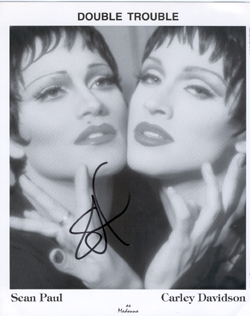 Here, Sean Paul poses with Carley
Davidson making a beautiful portrait ala Rain!