Home Fan Finder Impersonators Club Art Gallery Garage Sale Reviews Links
Bookstore About Everybody Subscribe! About Me How to Help Contact Me
Please welcome Viridia!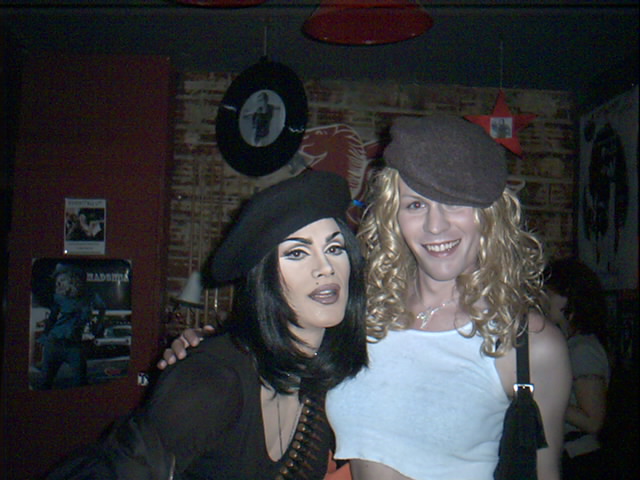 Sean Paul and Viridia set the stage on fire for Portland's
Madonna birthday bash! Read more about it here!
Hailing from Portland, Oregon, Madonna mastermind Viridia is a new face on the impersonator circuit, but already catching lots of attention. Our own Michelle Basart sat down to an interview with this talented chameleon, and gave us a chance to learn more about the craft, favorite Madonna looks, and being named Portland's first official Miss Gay Pride 2003! Let's find out more!
Interview by Michelle Basart
Question #1. How long have you been impersonating Madonna as well as other Non Madonna related acts/performances and what first got you into impersonating Madonna? Have you always enjoyed & played dress up?

First off I wouldnít say I impersonate any celebrity. Madonna has influenced my performing and I do perform a lot of her songs. I have done some of her looks but I donít focus on impersonating anyone Ė I am my own performer with my own ideas on how I should do things.

Question #2. Who or what inspired you to become a performer growing up? Who influenced you to want to Dance, Act, Sing, or perform?

Iíve always performed. I started in elementary school performing in talent shows and school plays. I continued performing in choirs and in drama during my high school years. So once I graduated and didnít have a place to perform I started performing in gender-fuck at a local under-aged gay nightclub. One of my close friends convinced me to perform in drag one night and I got the biggest audience reaction ever. So I realized there was something to it and Iíve been performing at local bars since. As for who influences me the obvious answer is Madonna but she isnít my only influence. Alanis, Janet, Jewel, Tori Amos, Anastacia, Fiona Apple Ė to name a few.

Question #3. What is it like to perform as Madonna or anyone else in front of an audience? What do you get from it spiritually or emotionally even?

I get a natural high from performing I guess you could say. Its always a great feeling being up there doing your thing and have people enjoy what you are doing. I get to have fun and still be able to be artist at the same time.

Question #4. Is it different performing in front of Madonna Fans or her Admirers compared to a regular audience? Is there a different response from your experience?

Well being that Iím usually performing in front of a mostly gay audience, they always enjoy hearing a Madonna song and seeing someone who can perform it well.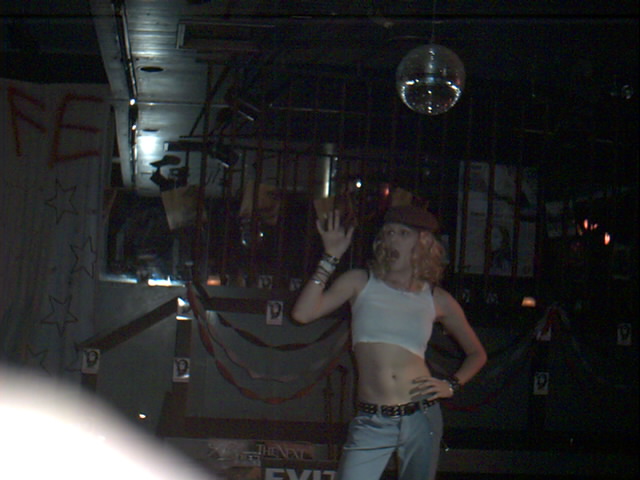 Viridia performs at Portland's birthday party!

Question #5. Has performing as Madonna made your grow or learn as a performer through her different creative looks & performances through the years? What things have you learned creatively and skillfully through her interpretations and others?

Well I do tend to change my hair color all the time and Iím always updating my looks/ style. I think Iíve learned to always keep my eye out for new things and to keep an open mind creatively.

Question #6. What has been your favorite Look to perform as Madonna after all these years?
Which one was the most fun for you? Which one did you get into or connect with the most?

Well I tend to really like what she is doing in the here and now. I always like whatís fresh and new. But if I had to choose I would say my Nothing Really Matters performance from Peacock in the Park ( a Portland Oregon drag show held in June each year at Washington Park ). I had the complete red outfit made and even had the funky platform shoes special ordered from the same store that Madonna got them from.

Question #7. How has impersonating or performing as Madonna as well as other Acts/projects Changed your Life and What do you hope it inspires in your audience/fans and for other impersonators/performers?

Well being a female impersonator has made me grow more as a person. For example I used to be that guy in the corner at a party and wouldnít chat with anyone unless they approached me first. Now I can go to any party and pretty much make or break that party at a whim ( not that I would per se ). Its made me more confident and out going. As for the audience I just hope they have a good time. If Iím doing a full show on my own then I would hope that they would understand the message within my performance. But if its just a quick 5 minute number most likely Iím just at Embers having fun and flirting with them to try and get some tips!!!

Question #8. How has Madonna's Character/persona and humor affected your performances? Do you mix some of her humor in your act as well as your own creative thought and humor?

Well I donít just copy everything she does and go up on stage and recreate it. I have my own sense of humor/ creative thought that goes into everything I do.

Question #9. Do you mix some of your own ideas in your performances and costumes? Do you make your costumes and Routines yourself? Or does someone close to you help you with your costumes and Choreography?

All the time!!! I do my own choreography and sometimes make my own outfits. If the sewing is too difficult then I ask for the aid of my friend Beamer. But everything I do starts with my creative vision.

Question #10. Has it been easier or harder to perform as Madonna with her ever changing Looks & Personas over the years? What strife do you go through to change with her? What are The Pros and Cons?

I myself change all the time. Be it looks, fashion, ideas, concepts, etc. So I wouldnít say its hard at all. The only thing that gets me is when I want to change my hair color, make an appointment to do it only to find out a day or so before that Madonna has changed her hair color to exactly what I wanted. Cause everyone ends up thinking that I did it cause she did. Oh well though that is only mildly annoying.

Question #11. Do you hope to perform for Madonna herself someday? Would you like Madonna to see her inspiration in you as well as other impersonators?

Iíve never really thought about it really. I guess that might be cool but I wouldnít want to know she was there or maybe I would? HMMM who knows???

Questions #12. What projects or Events have you worked on involving performing made you feel good about yourself and are there any you hope to work on in the future? Are there any hopes or dreams that you have had in the back of your mind as a performer?

Well Iím currently Portlandís first official Miss Gay Pride 2003. The title was just added this year so we now have Mr./ Ms/ Miss Gay Pride. We are the official ambassadors to pride 2003. So that has been tons of fun. In the past Iíve performed a few times in Peacock in the Park which is actually a fundraiser for a scholarship fund for gay youth or kids that have gay parents. I go to and perform in many other fundraisers throughout the year for various other charities as well. It always feels good when to do something like that. As for the future I donít know. I see myself always being artistically motivated in some way but I donít know how long I will be using female impersonating as that channel.

If you would like to contact Viridia for bookings or more information, please send email here.
Powered by geekbox.org