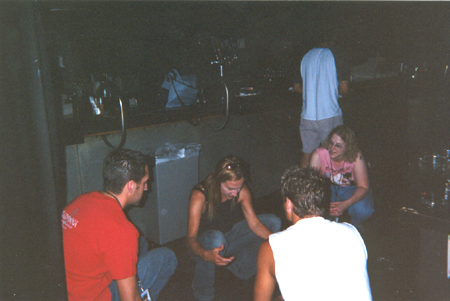 The group gets ready for the show!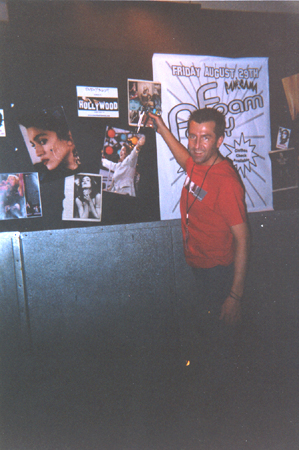 Gary gets set up!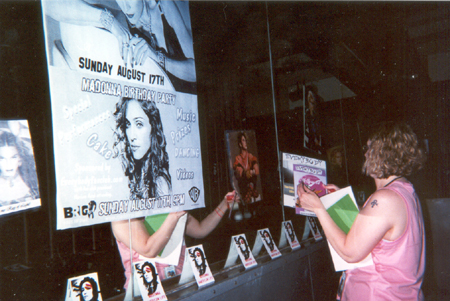 We even had our own poster! Michelle gets things going.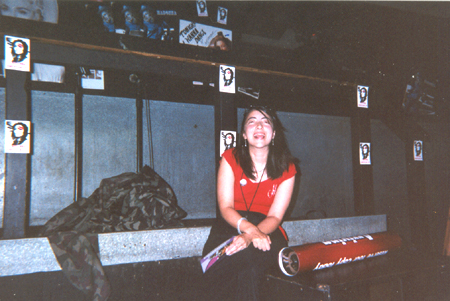 Did I help? Well, I made sure everything went smooth ;).

The fan club table was well-stocked as Melissa poses!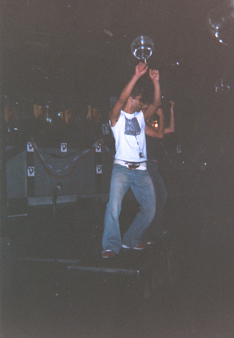 The performers made sure they had their moves down!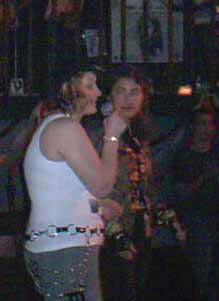 Michelle and I hosted the event and dressed up too!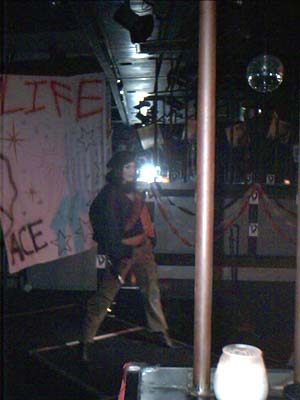 Sean Paul really got the party started!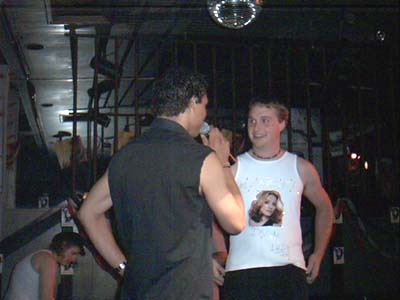 Lots of fans took part in Madonna trivia!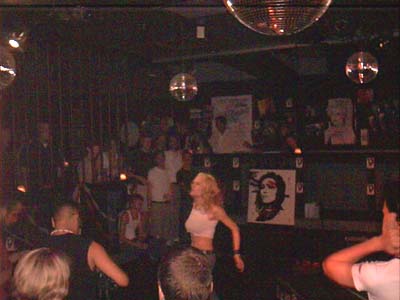 Viridia took us to Hollywood!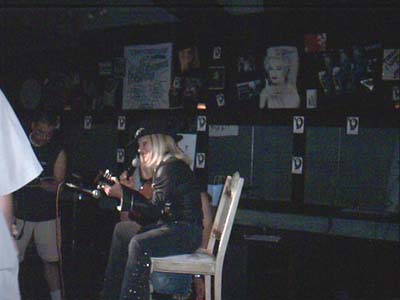 Andria brought back memories with her performance!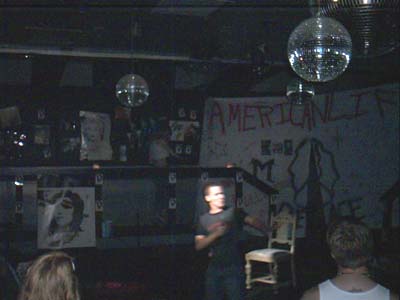 The lip-sync brought out some real talents!
For those of you in the Northwest and especially Portland, Madonna's birthday wasn't just another day listening to her music. In fact, you probably got to dance to her tunes, win several prizes, take part in a lip-sync, get fan club info, and see three great performers do songs like "American Life", "Hollywood" and "Music." Yep, that's right kiddies, it was the Everybody Fan Club's first major Madonna party and it was quite an experience!

From the get-go, Michelle Basart and I both knew we wanted to do something special for Madonna's birthday and initially we had planned on a Who's that Girl film festival, but getting the reels and the equipment proved difficult. So, we got in touch with DJ Alex who helps to run the Boxxes nightclub (www.boxxes.com). He was more than gracious as he provided a venue for our event (We also celebrated the release of "Americna Life" there, see our story.)

Planning the event was another story altogether. Where to start? And there was so much to do! We had to get to the stage setup, all the decorations for the venue, rehearsals, zines, contests- the list was endless! Needless to say, it was a lot to do, and we couldn't have done it without the help of all the wonderful people that participated in this- we give props to you!

Weeks of pre-prep time were under way as everyone went to task to get things done. Finally, the weekend had arrived! I made my way via train to Portland on Saturday, August 16th and once there, we went right to work finishing signs, hand-outs, music and trivia selections and contest prizes. Sunday was there before we knew it and it was time to set the stage…literally! We got to work putting up Madonna posters, making the stage, bringing in the birthday cake, and designing the opening curtain for the performers. It was so fun to get together with other fans and share our love for the girl for her birthday in this way! Sean Paul was already there helping and Viridia came by to helps, as well as Andria to get ready and rehearse. Things were starting to get underway!

Finally, party time was here. We were very excited to be able to have a table for the fan club and to see that fans were there to sign the guestbook, make out a profile or learn more for the future. DJ Alex started off the night with introductions of myself and Michelle and then blasted right off with "American Life" with Sean Paul. What a performance!

With a Bush impersonator making the stage, the banned video was brought to life as Sean Paul set the stage on fire with his rendition of the controversial song. After that, the trivia and contests bean as fans scrambled for a chance to win a Madonna treat. It was also a chance to make way to the table and learn more about the fan club.
Once the second performance was ready, we went to "Hollywood" with Viridia. All glammed up like the new Gap ads, Viridia teased the crowd and gave them a hot performance of Madonna's latest hit. We had some more trivia and contests, while we awaited Andria and her acoustic live performance of "I Deserve It" from the Drowned World Tour. As the fans sang along, it really did feel like we were going back in time to September of 2001 when we saw her in Oakland, California.
Right after, fans participated in even more fun with a lip-sync contest which got everyone into the groove and showcased who had the moves baby. A special encore live performance of "Music" brought all three performers back on the stage as everyone got up and boogied. After that, there were some final contests, the raffle winners and the unveiling of the birthday cakes and card.
We again want to thank everyone for coming and making this a party we won't soon forget! We are looking forward to getting to know all the new fans that made their way to Portland to celebrate with us and we promise to bring even more fun events to the Northwest in the near future. Madonna, happy birthday from all your fans, we know that you deserve it!

Mariam Ayub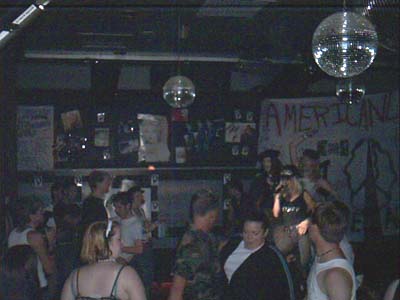 Music brought everyone out on the dance floor!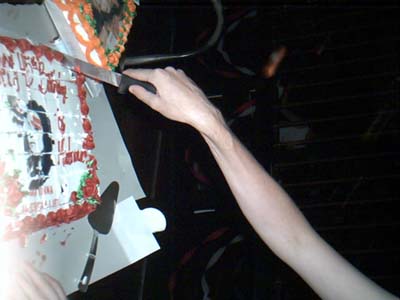 There were American Life and Hollywood cakes!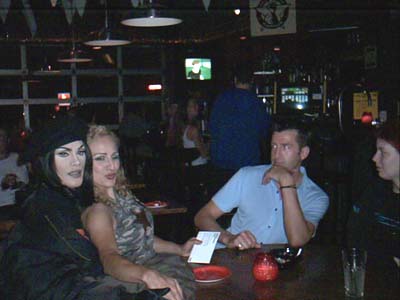 Everyone enjoyed getting together!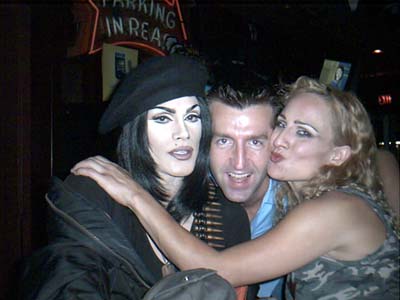 Strike A Pose!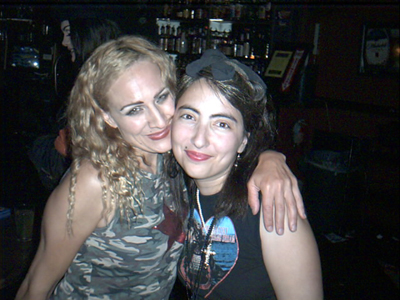 Andria and Mariam smile for the camera!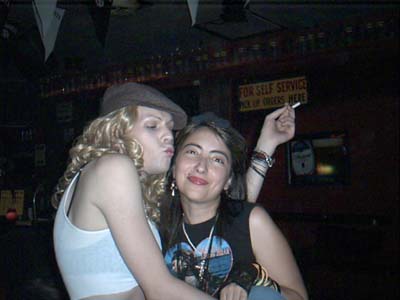 We had so much fun!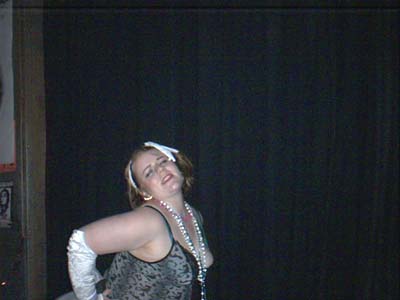 Thanks to the fans for making this great!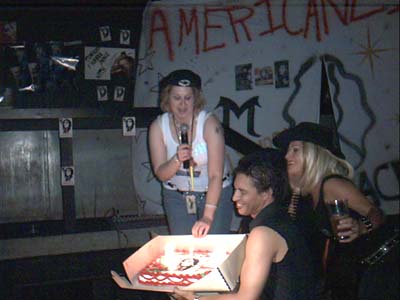 Happy Birthday, Madonna!