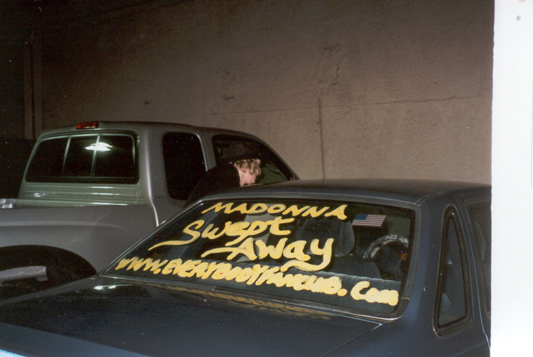 Michelle's car in all its glory as we got ready to be Swept Away!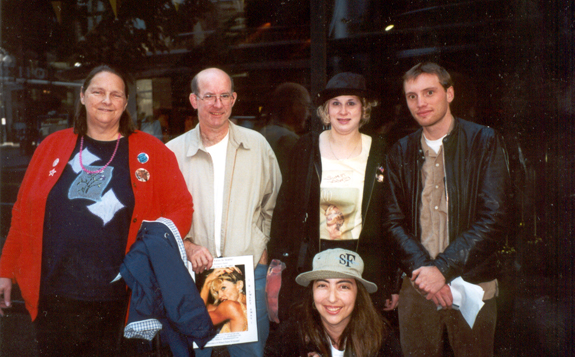 Here is the whole gang getting ready for the movie on Saturday - Patricia Heath, Michael Reeves, Michelle Basart, Toby Scales, and me!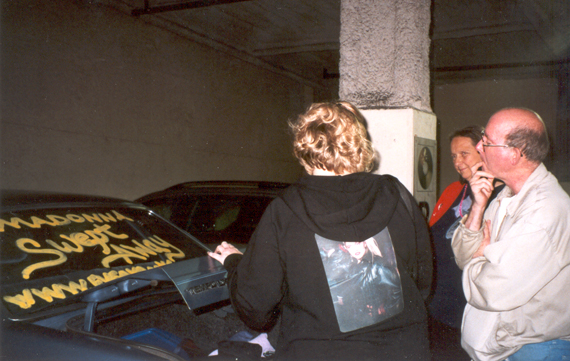 Everyone checks out the car - Michelle did great promotion to get this event underway!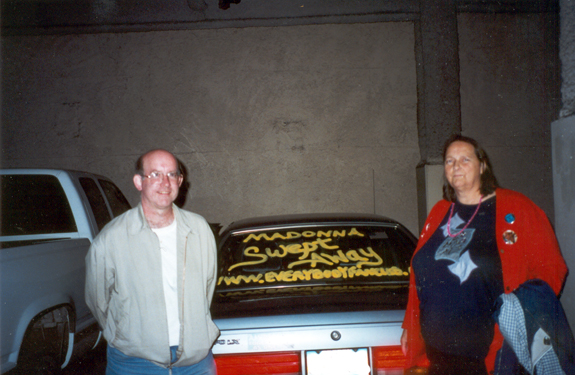 Michael Reeves and Patricia Heath loved Madonna's work in her new movie!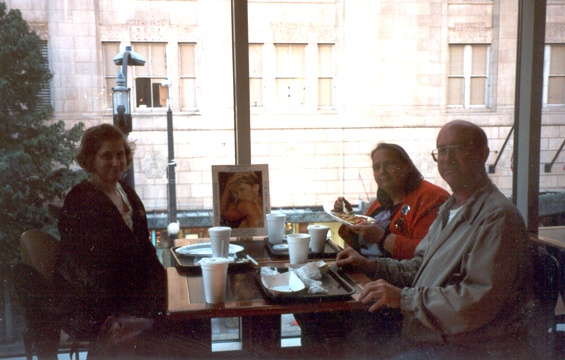 What a great day and what a great party!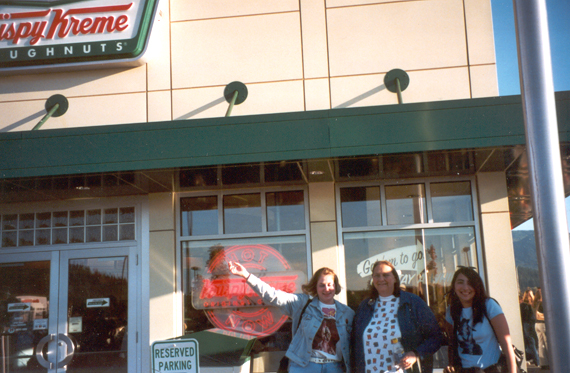 What's a Madonna weekend without a trip to Krispy Kreme? Michelle, the Mom and I check out the doughnut goodies!
My friend Michelle Basart, graciously let us use her article here that she shared with the Swept Away online promotion team as she tells us all about her trip to see Madonna and party!
Hi, I am a close friend of Mariam Ayub's and a member of the EverybodyFanClub in Seattle Washington for the Northwest. I live in Portland, Oregon and made 5 laminated signs to promote SWEPT AWAY IN SEATTLE movie premiere party October 11th through 13th, 2002! I also took a sign to TOWER RECORDS in Portland, Oregon with brochures about the party in Seattle andMariam's website www.EverybodyFanClub.com and our emails for fans to contact us to join the club and come to the party!
I drove up to Seattle in my car Friday 10/11/02 leaving about 2:30pm in the afternoon and stayed at Mariam's apartment. I had no idea SWEPT AWAY was not showing in Portland at the time. I'm totally shocked about that! Good thing I went to Seattle now! I used yellow just married paint stick from Walmart $2.99 to put MADONNA & SWEPT AWAY in the in the sand writing logo on the back of my window of my car.
Mariam and I saw SWEPT AWAY late 10:10pm showing on Friday night 10/11/02. We gave one of the managers our brochures hoping they would put some out in the theater in downtown Seattle. I had one of the signs I made with me to advertise our group and to attract other fans to approach us. I also made Mariam and I Swept Away t-shirts of the in the sand logo and yellow versace dress pics of her on the front and back of ICON so that fans would see us!
We all met up at GameWorks downtown Seattle at 1:30pm on Saturday 10/12/02 and next door is the Theater showing Swept Away. We saw the 2:30 showing of Swept Away! We all thought it was done very well throughout the movie and that Madonna looked too AWESOME!!!!!!!!!!!!!!!!!!!!!!!!!!!
She really looked so good! Those Dresses, Shoes, and muscles are just out of this world! I guess the critics are totally bombing the movie, but truly think they are nuts in the head! I think Guy Ritchie is an amazing director for putting this movie together. I thought it was funny and entertaining throughout the movie. I came away with the feeling that It's very thought- provoking at the same time not losing it's sentimental feel and romantic appeal. We laughed throughout the movie and it was only at the end that it got serious and yet made you think about the character lives and how they've been turned upside down. I know that Madonna will get slammed in the face again but each time I see her do a movie I see her get better and better and amaze me every time!
Mariam's mom came with us and is on her site. A longtime friend of Mariam and I came too to the movie downtown named Michael. A big fan and collector of Madonna too. So it was five of us alltogether celebrating Madonna! That Saturday night we all met up again at Polyester's/Culture Club nite club downtown Seattle across from the EMP! Experience Music Project Museum at 9pm. WE stayed until 2am and danced to several Madonna songs Holiday, Into the Groove and Like A Virgin! It's mostly 80's music that is played one side of the club. It was very very crowed so it was had to dance on the dance floor. I brought several peices of my Madonna vinyl for the DJ to play. Mostly Hot tracks and 12inch single and cd mixes.
So anyway, I am about to make another sign right now for Tower Records in Portland of the Pop Mag cover for issue #35 of Everybody fanzine to get fans to join the club her in the Northwest! Lots of love to EVERYBODY who loves MADONNA cause I Hate people that Hate!
Love, Michelle Basart (vashtidmsr) from Portland, Oregon ....vashtidmsr@aol.com