If you were anywhere near New York in October, then you probably have fond memories of the mega-Madonna convention put on by Jeannie Buxo from Madonnasworld.com. For the rest of us who unfortunately missed out, let's live vicariously through this great review and awesome pictures! Thanks, Jeannie!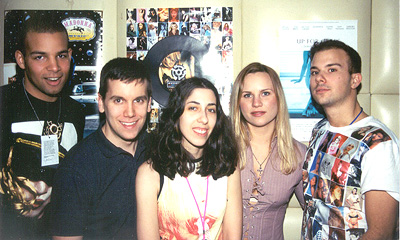 (from L to R) Jonathon - Me (Joey) - Jeannie (from
madonnasworld.com) - Tricia - Tom
photos courtesy of Joey Angeli
NZ SUNDAY STAR TIMES

08 December 2002


The star of the show wasn't there. But the ardent fans at New York's
first official Madonna convention didn't care. There were still posters,
after all. Kirsten Matthew reports.


Down in Chelsea, on one of the few seamy streets remaining in
Manhattan, 60 winter-wrapped bodies are pressing towards the doors of a
nightclub. Surrounded by warehouses and standing in the shadow of a grimy
overpass, the Roxy is an enduring legend known for its big dance nights,
midweek indoor roller disco, and gay clientele. It's also the nightclub
where 20 years ago Madonna, then a struggling dancer and singer, first
performed, so it's fitting that tonight the club will host the inaugural
official Madonna convention in New York City.

Inside Jeannie Buxo looks tired. A 24-year-old secretary from Queens,
Buxo is the prime mover behind the convention. Thin with wavy brown hair
and prominent teeth, dressed in a Madonna singlet and white jeans, Buxo
has been working on this project since January. She's done this not as
a paying member of Madonna's staff or as a representative from Warner
Brothers (which in its capacity as Madonna's record label has given the
convention official status), but as an ardent fan.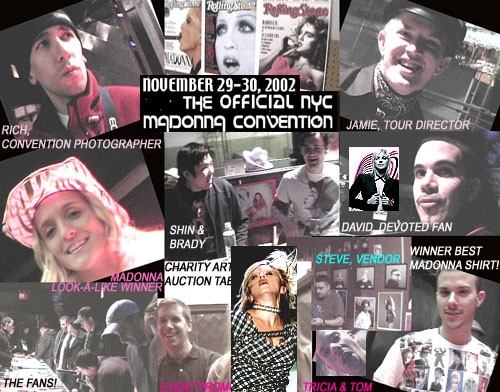 Buxo first became aware of Madonna at the age of six when she saw the
Lucky Star music video. Buxo joined the fan club which led to meeting
other Madonna lovers. When the internet came along, she joined mailing
lists and chat rooms that revolved around Madonna. She designed her own
website, madonnasworld.com, and started making pilgrimages to the annual
convention in Detroit, Michigan (where Madonna grew up).

Most of Buxo's meagre salary goes on feeding her addiction. Her house
is stuffed with Madonna memorabilia. She has travelled around the US
to see her idol perform. In 2001 she went to Paris to attend Madonna's
Drowned World tour. While there she got a photo of Madonna leaving her
Paris hotel with husband Guy Ritchie by staking out the hotel. She is
selling copies of the photo, blown up to poster size, for $20 - the
proceeds will go to charity, she says.

Buxo met Madonna once, in 1999. She had wangled her way into the MTV
Music Awards as a seat filler. In an ad break she spotted Madonna talking
to Donatella Versace, took her chance and rushed over. "Madonna, you're
the greatest," she blurted out. Madonna responded with a mere smile.

At 7pm the Roxy's doors swing open and the small crowd shuffles into
the black foyer that reeks of cigarettes, booze and sweat. The mob is
not as flamboyant as you'd expect: there's not a lace glove or pointy
bra in sight. There are a few young women paying homage to one of the
Material Girl's more recent reinventions with cowboy hats and low-cut
tops, but the group is mostly made up of gay men in their 20s.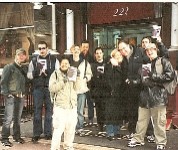 Whatever the demographic, this lot know what they're here for is the free
stuff. Sponsors have furnished stacks of promotional posters, copies
of the novel Swept Away (on which Madonna's latest movie, directed by
Ritchie, is based) and a video of Madonna's new BMW commercial. The fans
are only too happy to pick up these additions to their collections that
are stashed under beds and piling up in garages at home.

Within an hour the horde has spent a lot of money too, at the 10
booths where merchants are hawking calendars, photographs, records
and T-shirts. At one end of the room a chubby man and a blonde in a
fake-fur jacket peruse the merchandise on Steve Caraco's stall. Caraco,
a middle-aged balding man who lives upstate, makes a living out of this,
mostly via his website madonnacatalog.com. As we talk a tall man hands
over $160 for a fistful of memorabilia. By 8.30pm the room has emptied
and only the hardcore fanatics remain. Like Buxo, Tricia Hayes and Tom
Zaremba have spent thousands on Madonna. The New York residents travelled
to London earlier this year to see Madonna in the David Williamson play
Up for Grabs.

"She's such a terrible actress in the movies, but she was really good on
stage," 24-year-old Zaremba, resplendent in a home-made Madonna T-shirt,
explains. He's the DJ at the after-party tonight and like many here
prefers Madonna's mid-80s music - Like a Virgin, Crazy for You, Papa
Don't Preach - to her newer tunes.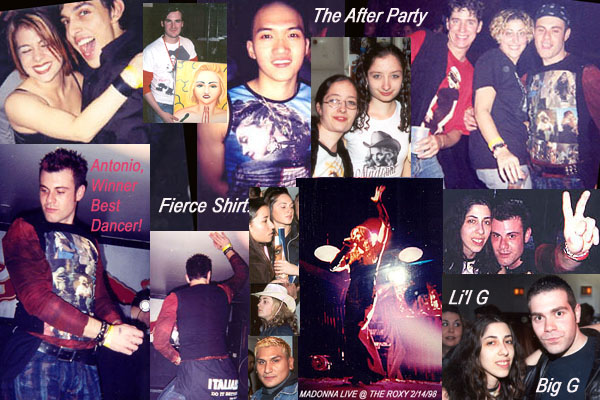 Zaremba's most extravagant Madonna-related purchase was a CD cover,
depicting Madonna toe-sucking, that was pulled before its release in
the early '90s. He paid $4000 for one of 138 surviving copies.

Joey Angeli, a 30-year-old trainee manager at Starbucks, is sure he will
meet Madonna one day if he makes it as a dancer. He's excited by the
recent discovery that one of her ex-dancers now teaches at the Broadway
studio he attends. "I love her for her performance - that's where I'm
really obsessed," Angeli says.

Zaremba loves Madonna's "perfect face", while Buxo is fixated for
more cerebral reason. "She always sends out a positive message to me -
tolerance, acceptance, a lot of valuable lessons," she effuses.

Their devotion to Madonna is unwavering, even though they concede that she
wouldn't be caught dead fawning over anyone. "I can't see her obsessing
about someone, so she probably wouldn't understand," Angeli admits.

Zaremba's a little more realistic. "I think she could care less,"
he shrugs.

And this is what makes this clique so intriguing. They all realise Madonna
is someone they will never be friends with, and that she certainly doesn't
care about them, but they keep obsessing all the same. Perhaps that's
because they enjoy the camaraderie with their fellow Madonna enthusiasts:
they seem to care for each other as much as they do for the object of
their collective affection. They look forward to meeting at conventions
and concerts and talk regularly over email and the telephone. This
weekend they're excited about spending time together at the party tonight
and on the five-hour walking tour tomorrow, which includes visits to
Madonna's first New York apartment, to Studio 54 where she worked and
to the Star Hotel and the Empire Diner, both of which have featured in
videos. Perhaps, in the end, the person they're united by is secondary.

"She's taught me that dreams can come true," Buxo says when asked why
she'd want to organise such an event. "I'm not looking for any kind of
thank yous. I'm just so pleased - I can't believe how it's all turned
out."


bestwishes
laura