Home Fan Finder Impersonators Club Art Gallery Garage Sale Reviews Links
Bookstore About Everybody Subscribe! About Me How to Help Contact Me
Introducing...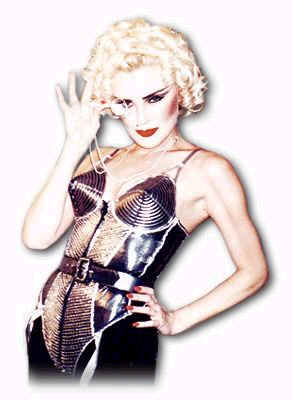 Nicole Padberg!
From her unique start getting into the impersonating business, (almost by complete chance!), to her current singing stint with the Three Chord Orchestra, Nicole Padberg truly knows the ups and downs of getting into the biz. We are very thrilled to share her story with you, as she shares her experiences as Madonna, and even gives you ideas of how to get started yourself, including making your very own Madonna outfits! Nicole, tell us how you did it!
First off, what got you started into the whole world of impersonating?

I got started impersonating Madonna practically 'overnight':

I was dating an Elvis impersonator (as many Madonna's seem to do in the biz), who was beginning a new gig in a tribute show. I drove with him to a rehearsal and in front of the director I said - off-the-cuff, and only 10% serious - "Hey, if you ever need a Madonna, I can sing like her pretty good", which I followed with a giggle. The next time I went to a rehearsal, the director, in a frenzy because their Madonna canceled last minute, pointed at me and said, "You're Madonna." I freaked out! I had to come up with a costume, a routine and background tracks practically overnight, the show was to open in three days.

From there I was blessed, VERY blessed, to have met a man who's business is impersonating, with a special emphasis on Madonna; Dan Gore of Icons Productions (http://www.icons.nu). Dan liked my voice and asked if I would be interested in portraying Madonna over in Malaysia for a weeks' tour in night clubs. A newcomer in the business the only reason I got the gig was because it was over the Christmas and New Years holiday, so no one else wanted to do it. But I couldn't refuse. An all expense paid trip, plus a salary...uh...OKAY! That experience was incredible because he helped pull my look together and refine it to see what worked best on me. He introduced me to a great make-up and hair guy; Tony (I wish I could remember his last name). Tony did me up for this amazing photo shoot with a photographer that Dan uses all the time, Peter Caravolias (http://home.earthlink.net/~lmnopete/). To this day he still uses my shot from back then in his repertoire alongside famous actors and impersonators. It's also one of my favorite photo shoots I've ever done, as Madonna, or ME! (http://home.earthlink.net/%7Elmnopete/photos2.html)

On your site, you have created almost every look of Madonna. What is your favorite one to do and what is a definite crowd pleaser?

Everybody loves the cones! I think the cones just have a sort of comedic element to them and yet sex appeal as well. And I would have to say that my favorite look is Express Yourself from the Blonde Ambition tour...with the cones - of course!

Have you had some interesting run-ins with fans? Times you were mistaken for the Diva? How did you handle it and what was it like?

Actually no, I've not had any run-ins with people who thought I was Madonna, unless I was completely oblivious to it. I did get the pleasure to ride in a convertible [during a parade] dressed up in the gold cone costume (Like a Virgin, Blonde Ambition). At the end of the parade route I had to run like hell, IN COSTUME, to get to a car, to catch a plane. I might as well have been Madonna with the response I got. Everyone knew I wasn't her (I think) but it doesn't matter, she's such an icon people will play with you in the fantasy and treat you like her. It's quite a trip because they even expect you to be a little well, Diva-esque ... you know bitchy, or else you'll disappoint them. But I try to be nice!

Do you have one memorable experience that stands out that you would like
to share as Madonna?

Other than everything... :)

Standing on a Vegas stage in front of a thousand people, after finishing Express Yourself and getting the most wicked goose bumps!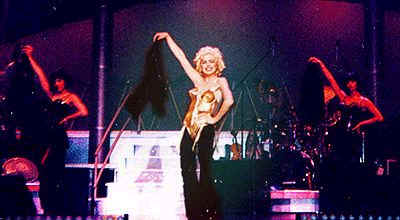 this is a shot of me onstage in my Gold reproduction of the pink corset performing Express Yourself with my two backup dancers. We're at the beginning of the song where we take off our jacket during the lyric "satin sheets are very romantic, what happens when you're not in bed"

You also share tips for aspiring impersonators to make their own costumes. How hard is it to make the outfits and what advice do you have for someone who is starting out and wants to try their own hand at making some?


Firstly, don't get overwhelmed because let's face it, you've got a hundred different looks and every color of the hair spectrum to deal with. Choose your favorite ... or better yet, choose the one that'll look the best on you. That is to say, which look is gonna make you look as identical to 'Mo' as possible? I could spend a whole website (hmmmmmm) on how-to's and advice for all her different looks, but focusing on one is the best strategy.

Here's a good little list to start with:
Boy Toy -
Goodwill, Vintage Shops, Hot Topic (lots of rubber bracelets there). I forgot where I saw it, but someone sells a Boy Toy belt which, of course, is a must for this look.

Blonde Ambition -
If you want cones you're either gonna have to make them or buy them:
Here's a real basic road-map from my website about the cone costumes
http://www.immaculateimpression.com/costume/
Buying them will cost you! The only place I know that will make the costume(s) for you is Trashy Lingerie in Hollywood (http://www.trashy.com), but you're looking at a minimum of $500 for a complete pink or gold costume. They do sell just a black bullet bra for around $150. Right now Frederick's of Hollywood (http://www.fredericks.com) actually sells a light pink corset for about $70. No cones, but it's a GREAT alternate starter for the pink corset over the pinstripe suit from the BA tour (Express Yourself).

Erotica -
Easy! Buy a black bra and glue black sequins on it! Put on a pair of black hot pants, black gloves, and black platform boots (easily found on the Internet for around $50) and there ya go. Throw in a zorro mask and whip and you're ready to start a 'Fever'.

A lot of Madonna's more recent looks are harder to pull off because she's not wearing as much makeup as she used to. If you look at a lot of the other impersonator websites out there you'll notice this. As soon as she ditched wearing the really dark eyebrows, red lips and mole it became harder to look like her, unless you naturally do. One of the ways to combat this dilemma is to mix a toned down version of her makeup from the 80's & 90's with her Ray of Light and Drowned World look. A nice long reddish brown or dirty blonde wig that has a tendency to cover your face can help too. ;)

Be warned though, one of the things that can throw you into debt is the hair. You're lucky if you can use your own, but you'll probably have to buy a wig, or 20, if you want to cover more than one decade of hers.

What's it like putting on a full show as Madonna? Tell us about the process a little.


This is a great question. I don't how many impersonators have tried to duplicate a Madonna Tour but that's what Dan and I did in Malaysia. (OH did I loose a lot of weight in one week!) It was only three sets of three songs in each set but I actually sing over background tracks so my dancing became a high impact aerobic workout. And I had the added thrill of less than five minutes to change in between sets..and let me tell you clothes do not go on fast when you're sweaty! I gained so much appreciation for Madonna and learned the real meaning of grueling. My tour was less than half of hers and it kicked my butt.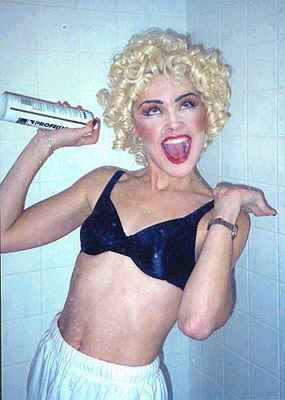 Back stage hairspraying... You can't take it seriously, at least not too much.

Any advice on those wanting to break into the business? How do they take a love of performing as Madonna to the next level as you have?

I'd say one of the most important attributes in becoming Madonna is being a pretty good dancer. My forte is singing so I really had to buckle down and practice my moves. Get the choreography down and the rest is relatively easy. I honestly think that anyone can be made up to look like her. Make-up is an incredible thing, just buy any one of Kevin Aucoin's books and you'll see the power of highlighting and shading. Once you get a look and a routine together, perform for your friends at a party, or get-together, and have someone video it. Send it off to a local look-a-like agency and see what develops. If you don't get any bites on the first try, practice more, make another tape and send it off. Like me, if you're better at sounding like her, a GREAT way to practice your craft is at Karaoke. YES! Karaoke!

Beyond all that, if you're really serious about wanting to perform as Madonna for a career you're going to have make a serious investment not only in costumes, but sound equipment, backing tracks, and if you want to really take it to the next level, back-up dancers.

You are no longer performing as Madonna, but what were some of the more memorable things you gained from this experience?

Probably one of the most fun gigs I ever did really sticks out; The Blonde Exhibition (http://members.aol.com/madonnasho/) - a show that a bunch of Madonna impersonators, male and female, did together for one night. It was incredible to band together with these other gifted performers, who all specialize certain looks better than the other, and put on a show spanning a decade of work for an audience full of die-hard Madonna fans. It was great to talk to other 'Madonna's', regardless of gender, and share make-up tips or costume info. To have the thrill of watching everyone one else on stage do their number, then to take the stage and perform with all their support behind you...it was just a magical experience.

Also, I have to say, I really enjoyed my time in Vegas. I made a lot of great friends working in a show for 2 years straight. But I learned that being in a Vegas show is not the be-all, end-all. When you're in a show you're relegated to only a few songs, and your look is scrutinized by the producers. I hated having to make Madonna more "Vegas-ie". I wanted to stay true to her image, her costumes, her choreography but you wind up in a conflict with the people that own the show. The upside is you have a constant paycheck, the downside is your look is no longer your own. Suddenly you don't feel very in control - suddenly you feel very un-Madonna.

To end this question on a good note, I will say that out of necessity, poverty and a perfectionist attitude I taught myself to make my own costumes. In the past years since developing that talent I've really enjoyed the art of costuming and creating my own clothes. I've had numerous requests to make costumes but have never given it any serious thought. This is changing as I get more adept at sewing, recently having made my own wedding dress. Maybe there's a niche for me to make Madonna costumes? It was fun making those cone bras! Hmmmm ....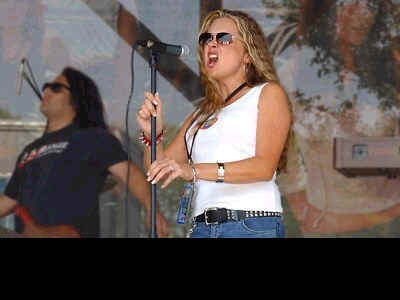 onstage at Verizon Wireless Music Center singing with Gonzo Greg and the Big Dumb Show's Three Chord Orchestra

What are you working on currently? Will we be seeing some Madonna in the future? ;)

Funny you should ask. I just got an email today requesting my services as Madonna that I'm contemplating. Right now, I'm enjoying being Nicole. I live in Indiana with my husband who works in morning radio. (http://gonzogreg.com) I'm the web mistress for his website, among others, and I sing in a hard rock band that's affiliated with his morning show (http://www.threechordorchestra.com and http://www.stuckinthenight.com). We get to do some fun stuff like perform at promotions or big concerts for his station. It's a great creative outlet for me because I really enjoying singing, and as much I love Madonna tunes, I don't really get the chance to my let pipes rip like I can on the rock tunes. But everyone in the band knows about my time as Madonna, so they have this idea that it would be fun for me to put on the cones (AGAIN with the cones) and do a few tunes of hers for a show. So you never know!

If you would like to contact Nicole for bookings or more information, please send email here.
Powered by geekbox.org