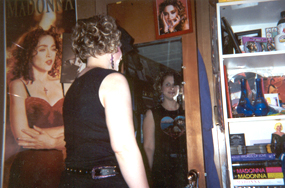 Michelle Basart checks herself in the mirror before getting ready to embark on a night of partying!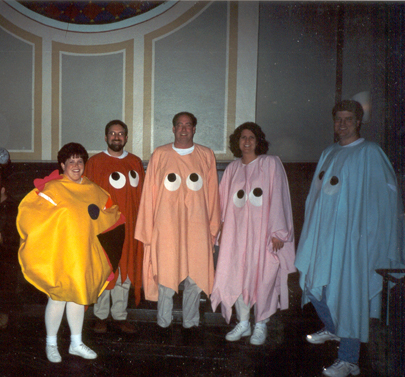 Of course with the theme being all 80's, we were bound to run into Ms. Pac-Man and company!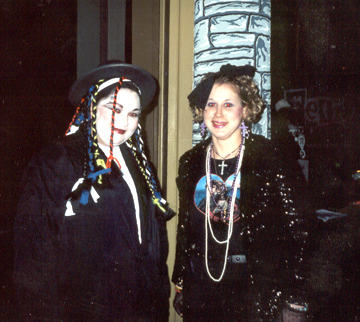 Michelle Basart runs into a very well dressed Boy George. How about Michelle's great sequined jacket? Just like the original!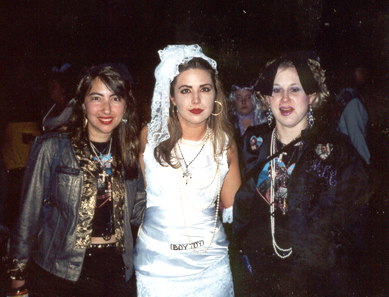 Our first run-in with a Madonna wannabe was Jordan Ruemler of Vancouver, Washington. We loved her outfit!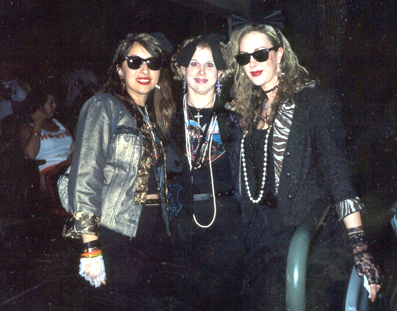 Our next encounter was all Susan and exuded her style and personality. We all loved posing together as the 3 Susans!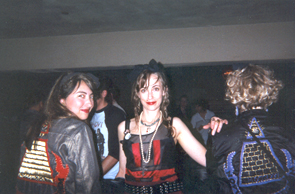 We also met up with a third Madonna wanna-be Rachel Nissing, who was pleased as punch to catch up with both of us. Check out the jackets!
Good Going, Strangers!
Up until now, I had never had the experience of doing much of anything for Halloween. Just sitting around holding a bowl of candy, waiting for something exciting to happen. Well, not this year, my friends. Thanks to my best pal, Michelle, both her and I were treated to a very fun and totally 80's night in downtown Portland, Oregon at the Crystal Ballroom. The show included a great performance by the Retros, a cool tribute band who ended up covering two Madonna songs for the night, "Into the Groove" and "Like A Virgin". The great thing was a video screen that showed the video hits as the band sang the songs. (however, during "Into the Groove", the showed "Lucky Star", they should have asked me for my copy of it! LOL)
Anyway, backtrack to getting ready. I always admire Madonna's spunk and skill for wearing so many layers of jewelry and clothing when I have to do the same. Wow! How did she not get neck aches from all those strands of jewels and crucifixes? The mind boggles...Michelle and I both picked out dressing up as Susan in Desperately, before and after. I was before with the trademark jacket and Michelle had the awesome glitter jacket we see in the end of the movie. Completely fun and completely 80's! Well, as Michelle and I got ready, we also got our promo mojo going with brochures and flyers for the Everybody Fan Club and got our cameras ready and headed out the door.
First thing, we had to walk many flights of stairs to get to this place, but once we got there, it was huge! One of the better dance clubs I have been to, and from what I understand, they have a type of dance floor that moves to the weight of the people dancing on it, and believe me, it felt like an earthquake at many a time. Thank God that my usually messed-up balance was pretty on that night, or I would have been break dancing most of the night...not that there's anything wrong with that...;)
Besides the great dancing and music, there was also a Halloween contest for the best-dressed attendee, and although we were unfortunately not picked to go up on the stage and strut our stuff, there were some really great contestants and 80's inspired outfits (like Boy George, and Pac-Man, pictured), as well as others like Robert Palmer and his dancing girls, Devo, Strawberry Shortcake, many Valley Girls, as well as mullet-heads and so many other great 80's inspired outfits. The winner? Beetlejuice, Beetlejuice, Beetlejuice! He was great and a crowd-pleaser with all! Still, we found it mighty odd that Madonna was not represented, and she was out in full force that night...
In fact, there were at least three other Madonna's in all! First we danced and met up with a Virgin Tour lookalike named Jordan who had the lace, the crucifixes, even her own homemade Boy Toy belt! Our next encounter was completely by accident, as Michelle and I danced downstairs and spotted a Desperately Seeking Susan jacket in the balcony, so we ran up there and met another great wannabe! She was really happy to meet us both as we networked some more. Deciding it was time to visit a restroom, we ended up in line behind the third Madonna wannabe who had the desperately look down as well and we posed with her. All in all, the Madonna fans we met ruled and really made our night, so we thank you all for posing with us and making it such a fun night!
Well, sometime after 1am, Michelle and I called it an, er, morning. But, it was by far the best "Madonna-Ween" I have ever had, and I just want to thank Michelle and all those great gals "dressed up" for bringing the spirit of the 80's back! You are totally awesome!
-Mariam Ayub (aka "Susan")