Mariam Ayub
Age: 30
Location: Seattle, Washington
Email: mariam@everybodyfanclub.com
Rehtafho@aol.com
Web Site Links:
http://www.everybodyfanclub.com
http://madonnavideos.theshoppe.com
Madonna Faves:
Fave Song: Oh Father
Fave Video: Oh Father
Fave Movie: Truth or Dare
Fave Concert: Blond Ambition
Fave Look: all 80's! And that leather jacket in Papa don't Preach!
Fave Quote: "Do you believe that dreams come true? Hold on to your dreams."
Fave Memory: There are so many after 20 years of being a fan, but I think my fave memory is seeing her for the first time live on the Who's that Girl Tour at the Kingdome in Seattle, (it was also my first concert ever!) Even though I sat miles away from her, I could feel her energy and spirit up on that stage. It left me breathless!
Learn more about Mariam!
Have you met Madonna? No, but I have had the great pleasure of getting to know a lot of people who worked or have worked closely with her and their kindness has been much appreciated. Thank you!

What is your favorite item in your collection and why?
That's almost a toss-up, but of the things I have collected, it would have to be my binder of my old clippings, pinups, and pictures from the 80's. Back then, I had no money to get anything and that was all I had. Every day, I would look through the articles and photos, and they would make me smile. =)

What's a way you show your love for Madonna?
Well, that's an obvious question! ;) This site, the zine, meeting other fans, it's what puts a human face on this whole thing. We all have Madonna in common, and I think that's the greatest we we can show our love for her - by being good to each other. =)
Any personal messages you would like to share:
As Madonna said in "Spotlight", "you know who you are", so believe in yourself and stay true to yourself. Good things come to those who wait!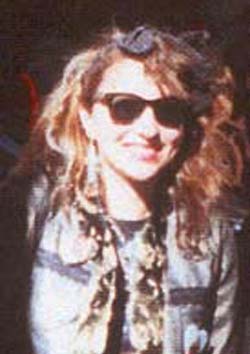 Yep, that's me, striking a Desperately pose!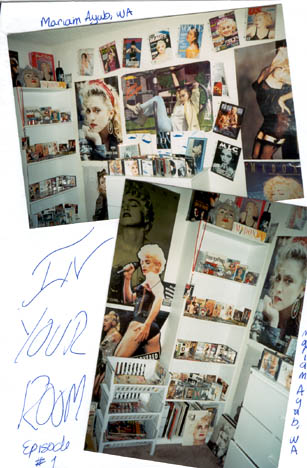 My room hasn't looked this good in a while.lol But it used to!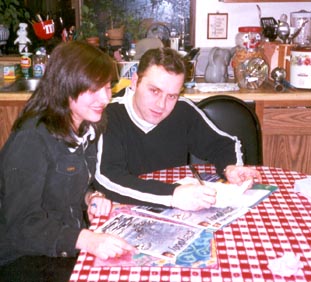 Working on the zine with my good friend Scott Holland!