Hugo

Age: 25
Location: Antofagasta, Chile
Email: hfrozen_cl@yahoo.com
Web Site Links: www.diostesalvemadonna.es.fm
(Spanish)
Madonna Faves:
Fave Song: Express Yourself, Vogue, Nothing Really Matters... but, do I necessarily have to choose one?...ok... definitively Frozen
Fave Video: (In preference order) Frozen, Vogue (from the 1990 MTV Music Awards) and Human Nature.
Fave Movie: Truth or Dare (In bed with Madonna)
Fave Concert: Blond Ambition World Tour (Nice)
Fave Look: I cannot choose... of old lady in Vouge, with masculine look in Express Yourself, or dominatrix in Sex, executive in Bad Girl, Jean Paul Gaultier in Blond Ambition and DWT, Dolce & Gabanna for The Girlie Show... it doesn't care that look is she using... she is always look really beautiful!!!!


Fave Memory: August 31 th, 1993. I arrived to my house and encounter in my mailbox a letter that "OMFC" coming from Los Angeles, California. I could not believe it... it was a simple pamphlet... the important thing was that it came from the Official Madonna Fan Club ... there are other moments, but this it is unforgettable.
Fave Quote: "Poor is the man whose pleasures depend of the permission of another" (Taken from the Justify My Love Video)

Learn more about Hugo!

Have you met Madonna? Even not... but I always think of that I will make the day in that that happens...



What is your favorite item in your collection and why?
Without a doubt ... the picture of Madonna to natural size... nobody wanted to sell it because it's a promotional and official product from the Music album... until one day I got it in a store of cassettes & CD... the owner gave it to me... ¡¡¡ people didn't stop me to look when they saw me pass with her in my arms !!!!

What's a way you show your love for Madonna?
Every day I need to hear some of their songs or to see some of their videos. Songs like Express Yourself live from The Blond Ambition Tour or Holiday Live in Australia from The Girlie Show or Music taken from The Drowned World Tour fills me with energy to leave to face the world with a positive attitude...

On the other hand, all the products that I have of her are official, to exception of the concerts in audio format for not being for sale as original material...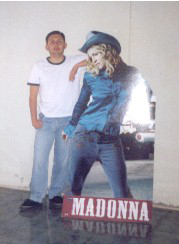 Hugo with his favorite Maddy item!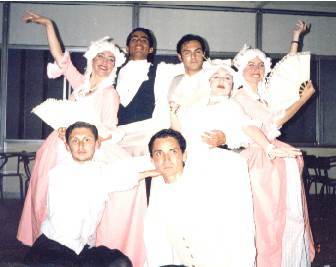 Hugo and company belt out the hit, "Vogue"!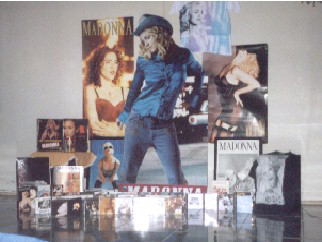 Some of Hugo's collection!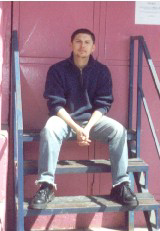 Hugo wants to meet you!