Kimberly Van Pinxteren
Age: 24
Location: Almere/The Netherlands
Email: american_life38@hotmail.com
Madonna Faves:
Fave Song: Mother & Father, Nobody knows me, erotica, Die another day
Fave Video: Die Another Day
Fave Movie: Truth Or Dare
Fave Concert: Re-Invention tour!!
Fave Look: Re-Invention tour, American Life photoshoot (Craig McDean)
Fave Quote: "I don't like that word re-invention, it's so boring" LOL!!!!
Fave Memory: -shaking M's hand during 'Imagine' while in the pit in Paris on September 2nd. -Her singing 'Crazy for you' to me while pointing and looking at me.

-During Up For Grabs on July 11th with her last scene, where she started to cry, she looked right at me for a couple of seconds. While tears were rolling down her cheeks, we just stared at each other, and after a couple of seconds she continued on her act. Was absolutely amazing.
Learn more about Kimmy!
Have you met Madonna? not met as in spoke to her, but shaking her hand while she looked at me and really wanted to shake my hand, certainly came close. Also the various times I have stared into those beautiful green eyes, means more then just a few words.
No but have had a close encounter, this was during the July 11th (up for grabs) show (one of the very last), I sat in BOX 1 seat 1 (this is a little above the right side of the stage, the closest you can get). Guy was in the audience so I think that made M more comfortable because she was AMAZING that night. Anyways throughout this show I had eye contact with her but always very brief. When she stood at the right side of the stage she was sooo close and I could see her three wrinkles in her eyelids (LOL). But at the end of the show M always held this emotional speech and this time she cried real heavy tears, suddenly she looked me straight in the eye. Her eyes were all watery from her tears and so amazingly GREEN, she looked so vulnerable, helpless and so small that moment. We stared at each other for a couple of seconds and then she continued on her act, I was left BREATHLESS! The only words I could utter were 'oh my god' that was such a magical moment, I will never EVER forget it!!! Oh yes I saw FIVE up for grabs shows. Had the best time ever!

What is your favorite item in your collection and why?
My 400+ cd collection, my tons and tons of promo videos (most proud of original withdrawn American Life promo video), car receipt from 1986 signed by her with last name: Penn, my life-size stand-ups, signed cd's, Erotica withdrawn picture disc. But most of all my own shot home videos of Madonna, my self-made pictures of her and all of my amazing memories.

My gold RIAA award for Erotica presented to Madonna, just because it is my favorite record of all time and it is presented to the queen herself :o) Secondly, my signed car receipt (as in Madonna Penn), my signed Like a Fanzine (very first issue). Quiet storm and I-D 1984 magazines and my Erotica USA promo CD WITH withdrawn red toe sucking insert (will be in my collection very soon).

What's a way you show your love for Madonna?
By trying to see her as much as I can, just recently I saw 12 Re-Invention shows (was in the pit three times!) and I had the best time ever. I have two tattoos of Madonna (of which I will try and get a pic up here really soon) just to show to myself and to everybody out there that I am most proud of her. I think you should only get a tattoo of something that has meant something to you in your life, and Madonna has been a true saviour in ways some of you can't even imagine. She's a true symbol of my life and I love her dearly. My tattoos were very popular with Madonna's crew though. Monte Pittman (I knew him already) filmed it to show to Madonna, the dancers wanted to film it as well and Madonna saw it herself and then pointed at me singing 'crazy for you'. Also I respect her privacy, don't hang around her house all day (unlike some people!), don't stalk her, don't try and touch her whenever she's near (unless of course she wanted to shake my hand, like in Paris :o). I feel connected to her and always stick up for her in discussions (have done this since 1991, it's getting old).
Any personal messages you would like to share:
I would like to dedicate this little page to my good old friend the late Steve Nelson. He was a surrogate father for three years (my own father passed away in 1993) and I loved him very much. I know he was with me on tour, watching Madonna's every move. How on earth could I otherwise possibly have had so much luck??
Thanks Steve, you will be in my heart forever.!!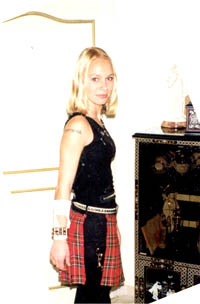 What an awesome pose Kimberly is striking! She shows how to do it right when getting ready for the Drowned World Tour!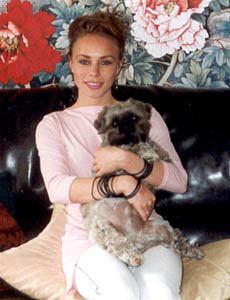 Kimberly wants to get to know you!