Michelle Basart
Age: 32
Location: Troutdale, Oregon
Email: vashtidmsr@aol.com
Madonna Faves:
Fave Song: Well, my first instinct is to say "Holiday" because it's my first one, and it's so anthemic, but on a more personal level, I choose "Promise To Try" for its poetic beauty.
Fave Video: Ooh, that's hard but I pick "Like A Prayer" because of what it stands for.
Fave Movie: Easy! Desperately Seeking Susan captures Madonna's free spirit!
Fave Concert: Blond Ambition for the range of hits and the awesome choreography by Vince Patterson.
Fave Look: That Eighties look! The bracelets, the belly button, the wild hair and lace. Material Girl all the way!
Fave Memory: It's got to be when I first saw Madonna on the wall at Musicland with the promotion for her first album (Madonna). I wondered, who was she? I just knew then and there that I had to know all about her!
Fave Quote: "And you thought we wouldn't last" -MTV 10

Learn more about Michelle!
Have you met Madonna? No, darnit!

What is your favorite item in your collection and why?
My most sentimental item is the Herb Ritts poster I bought in 1984 with the black lace and the purple. It's the first thing I bought and kept and I never lost it or got rid of it. It's a one-of-a-kind treasure!
What's a way you show your love for Madonna?
By embroidering purses, jackets, shirts, and making great items for both fans and friends as gifts to show our love for Madonna! (see at right a one-of-a-kind Madonna tote purse with the Immaculate logo made for the Drowned World Tour!)
Any personal messages you would like to share:
The greatest thing we can learn from Madonna is that it brings us together and helps us respect one another. Believe in the power of love, humanity and ourselves. We can make a difference! If we learn anything from Madonna, it is that she has changed the face of music and the way people deal with racism, religion, sexuality and the world. She is a very special person in our hearts and minds forever!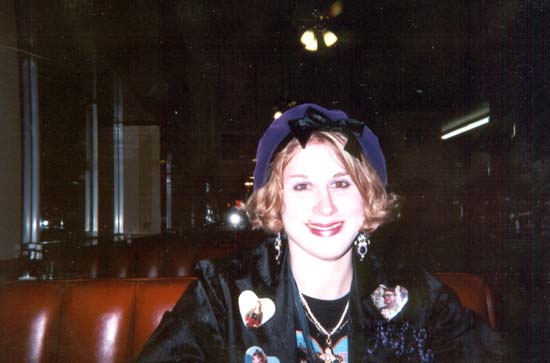 Striking A pose after the Drowned World Tour!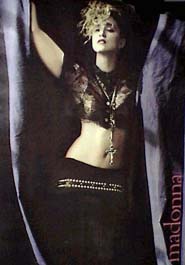 Michelle's first collectible ever bought!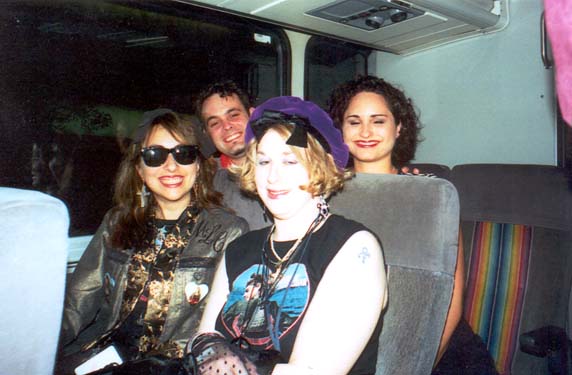 Taking the train with Mariam Ayub and friends for some Madonna bliss!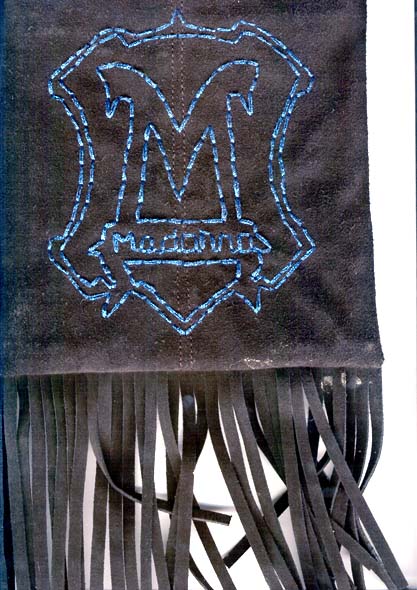 A custom-made Madonna purse!