Home Fan Finder Impersonators Club Art Gallery Garage Sale Reviews Links
Bookstore About Everybody Subscribe! About Me How to Help Contact Me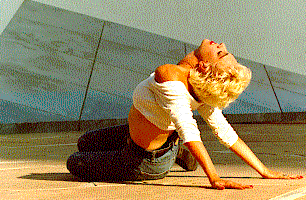 One of Madonna's most sought-after impersonators, Denise Bella Vlasis, spoke with "Everybody" for a very special interview about how she got involved in the business, some of the exciting projects she has been able to work on, and what the secret to success is. Denise has been involved in the craft of impersonating Madonna since 1985, and has done more stints than almost all other wanna-be's! She was featured in a Vh-1 with Madonna herself and most recently was Madonna's stand-in for a video segment for the Drowned World Tour! If you have always wanted to walk a while in Madonna's shoes, Denise tells you how to make it happen! Read on…

Q: First of all, I would like to thank you for this opportunity to learn more about your craft and its connection to the Diva. My first question is what got you really involved in this art, beyond just doing it for fun?

A: Absolutely MY pleasure! Thank you for your interest and I hope I can share enough interesting information with you to better understand what I do. Becoming & working as an impersonator is much harder than it can appear. Many people think, "dress up like someone famous" and that's it…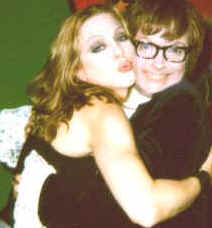 The truth is – one must be as strong in mind/spirit as well as know how to be entertaining/business minded and have people skills. Not many people/impersonators (compared to how many are out there) make a LIVING at impersonating. Ok – with all that said – back to your question – I have been a performer all my life. Dance classes starting at age 9 – Drama to follow through out College. Scholarships in Dance, Theater & Choreography. Dance is my first love & will always be. At age 20 MTV began to air and suddenly the world thought I looked like "that singer on MTV."

This seems to be a theme in my life because when I was dancing at age 9, I remember walking into places and hearing adults say…"Oh my gosh, she looks just exactly like a young Goldie Hawn." All my life I have been told I look like someone, and the truth is I really look a lot like a lot of people yet I look like no one else. It's very ZEN...

Q: How has this influenced your networking circles, for example, how easy or hard it is now to get entertainment gigs based on what you do?

A: NETWORK is a key word with this kind of work. Oh I have been blessed; Madonna's work opens so many doors for me. I've been cast in commercials, music videos & live stage performances because people know me as "Madonna."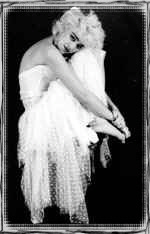 I guess breaking into show biz can be impossible for many people. I seem to have an angel on my shoulder. It's been one open door after another for me. I guess when you love what you do & you do it with the right intentions – doors open for you. If doors aren't opening – you may want to re-examine what & why you are doing something. To succeed in show business, you really do need to be thick skinned & know how to keep what you do separate from who you are personally. I network constantly.

Q: Does fan input influence how you present Madonna's image?

A: Yes – to some point. I do have sources (that are fans of Madonna) that I confide in. When putting my presentation together as Madonna, I do check fan web sites & certain fans since they study Madonna as hard as I do (& maybe even more). They pay attention to detail. Yes, I am open to many of the fans suggestions – this makes it more fun for me. Along my years, I have had many Madonna fans follow my career & come to my shows etc. It's like a vicarious experience.

Q: Do you ever have new ideas or interpretations that you take to the stage when you present Mo's work?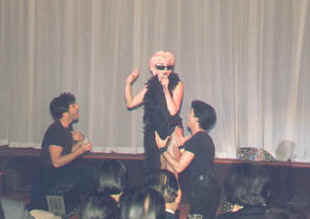 A: Always! I have to use my own creative concepts and blend them with her. I am inspired by her but then I will get together with my choreographer Heidi Jarrett (who has choreographed my shows for 10 years) and dancers Frankie & Tatiana & together we come up with ideas. In all our routines – we have trade mark movements that our distinctively our own. Makes it more entertaining. I also like to add humor to my impersonation.

I invite people to check out my site as I write new information on my career all the time. You can see the books I've written on my site and even buy them. I have an ASK BELLA link and answer people's questions about whatever and all the years of photos, media and coming soon – video.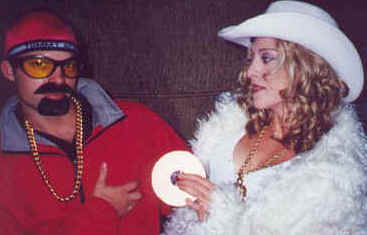 http://www.tributeproductions.com/madonna_impersonator.htm

Wanna read more of this interview? You can learn how Bella got started, her favorite Madonna look and her upcoming projects all in issue #34 – click here to order!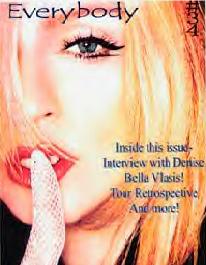 If you would like to contact Denise Bella for bookings or more information, please send email here.
Powered by geekbox.org