Home Fan Finder Impersonators Club Art Gallery Garage Sale Reviews Links
Bookstore About Everybody Subscribe! About Me How to Help Contact Me
looking to be entertained?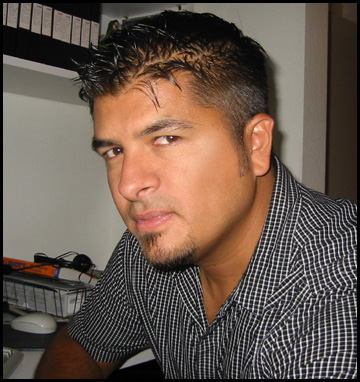 Dan Gore's your man!
When it comes to the art of producing high-quality shows and bringing together a bevy of impersonators, no challenge has been too great for ICONS Productions producer, Dan Gore. Standing for Incredible Creations On Stage, Dan has put a lot of hard work and time into exquisite recreations of the real thing, in this case, Madonna. Let's find out more from Dan about his beginnings, the Blonde Exhibition and what he passes on to future event producers.
What got you involved in producing shows and getting talent together? What was the inspiration to put something like this together?
Ironically enough, a Madonna Impersonator named Denise Bella Vlasis got me started by my likeness to George Michael in 1988. I began all this insanity by impersonating George Michael. Once the business of working as George Michael began dying down, I began putting shows together. The idea for the Madonna tribute show "Blonde Exhibition came to me because of all the Madonna impersonators that I had worked with as George Michael. I noticed that many of these entertainers all resembled Madonna but in different eras of Madonna career. I thought how wonderful would it be to put together a show where I used all the many Madonna impersonators to portray her career, thus, the Madonna Exhibition, now known as the Blonde Exhibition was formed in 1993.
It inspired many a tributes in video, including Gloria Estefan's video "Everlasting Love", also Madonna's welcome committee on the 1999 MTV Awards when Madonna was introduced with a dozen or so female impersonators of Madonna, and not too mention the latest Madonna kiss which routine was inspired by our 3 person Madonna tribute by 3 live singing Madonna Impersonators in 1998, our last production that I put together. After this 1998 production, MTVís Executive Producer of the MTV Music Awards, thus, inspiring her greatly over the last few years, accepted a complete promotional package and video of our show.



The Blonde Exhibition is of course one of your most famous stage shows. How did the production for that all come together and how was it received?
The show was well received. Madonna fans loved the show. None of the shows that put together were more than just 1 night, because of the cost of putting the shows up. The last show in 1998 included 12 Madonna impersonators, men and women, and a live band. It was a financial nightmare, especially when you don't have millions behind you to produce top sets, and staging, lighting etc. My dreams and visions often exhausted the finances before they were ever put onto the stage. The first show was in 1993, the 2nd show in 1994 at a LA gay pride event, the 3rd show was in 1995 at the Alex Theatre, and the last show (4th) was in 1998 at the El Rey Theatre in Los Angeles. The press loved the show; media flocked to it because it was about Madonna.
Another reason this show was often enjoyed was of the originality that was put into it such as the finale, which always received a standing ovation, the 3 versions of Madonna doing the song VOGUE. (Blonde Ambition look and choreography, the Dangerous Liaisons look from the MTV awards, and the Girlie Show version with headpieces, etc.) Also, another piece was mixing the music and look of RAIN with the music and choreography/look of OPEN YOUR HEART. That inspired many drag queens alike, as well as real girls to began concentrating on how to perform and incorporate more than one look and sound of Madonna.

Was it hard getting all the impersonators to come together and do the show? You had people coming in from everywhere!
Most of the impersonators were centered in Los Angeles; however, a few flew in from Las Vegas and Chicago. Because of the tight financials, once people got here, we had to scramble to teach choreography, sound checks, etc, especially in 1998.
What have been some of your favorite Madonna acts to produce? Any standout performances?
I enjoyed the originality that I brought to the show, like the 3 like a virgin looks that we did together, which inspired the MTV EP to do with Britney /madonna and Christina, We also did it with RAIN/OPEN YOUR HEART and not too mention the finale of VOGUE, which was amazing. Anyone can impersonate and/or try to look like Madonna, and you can go watch it happen, and enjoy it, but it is surprising to see how you can mix/match the eras and music, to your benefit, with these original ideas of mix/match, and its much more enjoyable because you are not expecting it at all. As you would if we completely copied Madonna verbatim.

What would you say are some of the hardest parts about what you do? What are some of the most rewarding?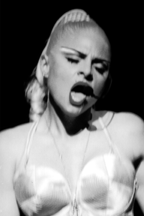 The most rewarding to me would have been the financial gain, but that didn't happen. But really, the most rewarding was the ultimate fans when they either emailed, or called, or just said, "wow, it was really great!Ē I was a big fan, still sort of am, you have to be in order to produce a show, and have it appeal to other fans, to have it be believe-able. You must be a fan. Hardest parts is pulling it altogether and doing it on a small budget, getting everything together to make it to the stage. But when it all comes together and the people cheer, that is an amazing feeling.

You have booked impersonators for some very prestigious companies and/or people. What has been the most unusual request you have ever received? Lisa Welch
Booking Madonna impersonators for Madonna's productions has always been a great honor. Lisa Welch worked with Madonna on the I'LL REMEMBER video and it was a great feeling knowing that I'd become the "man of Madonnaís". Also, using Bella for the DROWNED WORLD make up production was also an honor. To know that through hard work and dedication, you become "something". Not that is was a financial gain, which it wasn't but at least I had become known for my shows, etc.

Unusual request, hmmm... can't think of one right now, at least with Madonna. I think it was the request for me to spend the weekend with a lady as George Michael, which I didn't end up doing that had to be the tops.
Melissa Totten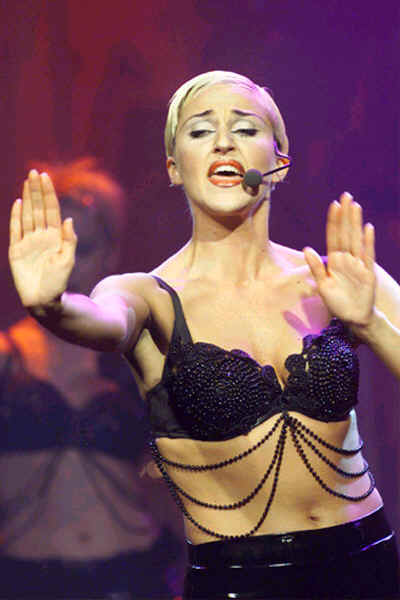 What are some projects you have coming up? What are some goals you are striving for in the next year?
Melissa Totten and I are currently working on putting together an unplugged production based on Madonnaís music with a full band. Melissa is a dear friend of mine and is extremely talented and enjoyed worldwide by Madonna fans. (She is currently playing the guitar and) We are putting together a band for a small tour of the major cities, hoping for spring 2004. A lady named Natalie Blalock who was the first person I know of to do a piano/acoustic tribute to Madonna in NYC cabaret circuit inspired Melissa. Natalie is a Broadway actress and bears a facial structure /likeness to Madonna, she was very inspiring to me with this show, and I took the idea and developed it further by using Melissa Totten. (Natalie had done Madonna as a novelty, not for a living.)
Developing a tribute show is easy to do, however, I want my shows to have a touch of originality to them, so with this unplugged show we are re-developing (Melissa and I have done it several times before with either a piano and/or guitar player, many times for the Madonna Conventions in Michigan), we want to relive her highest musical eras, but with elaborating and/or changing the arrangement. For example, we will be turning Papa Don't Preach in to a ballad, and songs like "Nothing Fails" will end as a rock tune. Melissa sounds amazing as Madonna, so I believe by using her likeness and voice, this show will be enjoyed very much so.

Has Madonna herself attended one of your shows?
Madonna has not attended the shows. However, Christopher Ciccone is very interested in pushing the Blonde Exhibition show as he has pitched it many times to casinos in the Las Vegas market.
What advice do you have for someone interested in producing talent in this way? What are the first steps for them to get in the industry?
First steps would be learning how this industry works, knowing what makes it tick. This look-alike/impersonator world is the outer circles of the entertainment business, itís not easy, and just because you knock yourself out doesnít mean you are going to get a deal, or make money, or get booked. Itís who you know and how long you will last, is a whole Ďnother story. You have a passion or a fancy for who you are impersonating, if you donít like Madonna, donít even think about trying to look like her or do her, because the fans/audience will see right through that. You have to enjoy/admire the act that you are trying to impersonate in order to sell it.



Powered by geekbox.org