Home Fan Finder Impersonators Club Art Gallery Garage Sale Reviews Links
Bookstore About Everybody Subscribe! About Me How to Help Contact Me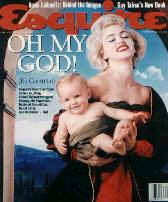 Remember this magazine cover?
I remember how shocked I was to find out that that wasn't Madonna, but a very dead-on look-a-like. For years, Madonna impersonators around the world have been inspiring fans with their thorough renditions of Madonna's most powerful performances. They have also encountered countless double-takes as people begin to wonder, "who is that girl?"
We are beyond lucky and extremely thrilled to present to you the face behind that magazine cover, none other than Chris America! She has appeared in magazines, TV shows and promotional appearances and has quite a few "tales to tell." We are very fortunate to learn more about what it's really like for this "lucky star." Let's let the diva take it from here!
Q: First, tell us what made you decide to give "face" around the world as our Diva.
A: In 1983, I originally started out as a generic singing telegram talent in the local Virginia area. MTV was becoming this new phenomena and "Putting on the Hits" was a new hit show that was introduced on national TV. All of a sudden look alike talent became this new demand in the talent industry. My agency was starting to get calls for look-alikes - one being a new star named "Madonna". I had not really even heard of her yet and curiously one afternoon I saw her "Lucky Star" video on TV at a friends house and I initially thought her outfit at the time reminded me of a cockroach - mainly because the look was black and unusual - so different!
I thought she was really pretty though... about 2 months later it seemed like every other person was telling me I looked like Madonna. My agency called and asked if I would be interested in becoming a look alike for Madonna and Cyndi Lauper - as they were getting many requests for those two characters. So I agreed to try it out because the pay was better than singing telegrams. My act was a "hit" and the jobs became plentiful... Eventually leading to specializing as Madonna because my look was stronger to hers and she was in such great demand. By then I knew more about her and could see the resemblance much better...
Q: What was your first big break that made you realize you made it?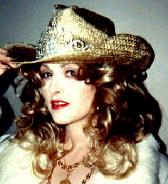 A: Wow... That's difficult to answer because there were so many minor "milestones" and successes in portraying her that I started to accomplish and they just kind of snow-balled... I suppose some of the main ones were obvious initially - which were where-ever I went people reacted and twisted their necks to get a second glance. Many believed I was her - and admittedly at the time I added to this because by then I enjoyed the attention it got me and started dressing similar to Madonna the first couple of years. I became a big fan to an extent - and being so young then, I honestly can say I primarily looked forward to entertaining and being noticed as her more... getting paid was more secondary then. Eventually however, I grew into my own identity and eventually looked at my portrayal as work and a job. I believe most look -alikes initially enjoy and experience a romance with looking like their character when they first break out and then after they "do" it enough times, done the limo things and done enough events - they eventually chill out and move on to viewing it especially as a business venture.

Another milestone I can recall is when I had an account with Madison Square Garden and the Promoter who ran the stadium wanted me plastered next to him weekends on end so that people would think that he was actually hanging out with Madonna. It was believable because he was so big in the corporate part of the recording industry and he took me to all kinds of 5 star events. We would walk in a noisy room and all of a sudden you would hear people whispering excitedly and then you would hear a pin drop. It was totally hilarious and amusing to me. Another time I felt excited to do what I do was when my first TV talk show called and asked me to be a guest. That was Sally Jesse Raphael and at the time I was so excited to get on National TV - it was on over Thanksgiving and it seemed like EVERYONE saw that show. The next thing I knew all the talk shows were calling and I was getting hired for many events nationally - just from that first TV exposure. Then Another time - when I made my first $1000.00 on a gig. That was major.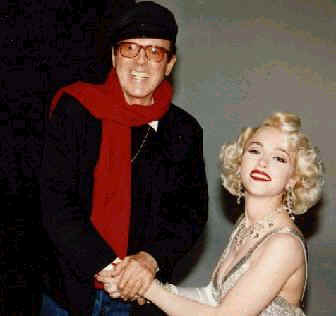 Then when I got on the cover of a couple of magazines and when I did the Oprah show after being selected out of 4000 entries - I was stunned. When I found out Francesco Scavullo would be shooting me for a magazine feature I was just amazed. I can remember only a year prior to that I had been at a book store looking at all these cool pictures from from a book of Francesco's favorite photo sessions that had just been published for sale. I can remember thinking - "Wow. I would LOVE to get pictures done like this by Francesco Scavullo - but there is NO WAY that would ever happen for me because I am a small talent in Virginia..." A year later - I not only got to shoot with him, but I got to do a private session for free! His sessions were rumored to cost a minimum of $25,000.00 at the time and I was stunned to actually meet him. It really showed me that you never know in life what CAN happen. You can never say never! Another mile stone was working at inaugurations for the presidents and of course working as "Madonna" for VIPS at her actual concert here in DC last year was pretty unreal.

I have experienced what fame really feels like. People crying, shaking, pushing to touch you... spilling their guts out to you, running to get scripts from home and back to the restaurant you are at because they think it is their one chance to break through to Madonna and get their careers going... stages almost collapsing. This type of work I do is really surreal - and truthfully - it has given me a big appreciation for being able to become anonymous when I want to. Celebrities don't often get that luxury. Of course - If I made millions I wouldn't complain now either!!!! Becoming part of "Legends in Concert" in Las Vegas / Atlantic City was a good high point at the time as well...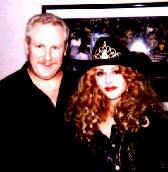 Q: Can you tell us about one special experience in your life doing this?
A: There are countless stories I could tell you and each were significant in their own way to me. I guess the most impact I ever felt from impersonating actually was my very FIRST job as Madonna - of all things. To make a long story short a young girl's best friend hired me to do a 13th birthday for her. I arrived to an empty, dark and eerie house. The 13-year old's parents opened the door and lead me into a dark basement/ family den. You could hear a pin drop and there were only THREE people there. No one smiled. It felt so weird. The parents were very stressed looking and the best friend was somber. I was a bit freaked out. I kept thinking that maybe the parents hated Madonna and they were allowing me to do my gig because it was a gift to their daughter from her best friend.

Minutes later the birthday girl came home and down the stairs and I started my music. I sang "Dress you up", rolled on the floor, put a huge black bra on her and some beads and necklaces. I put a bright pink bow in her hair and had her sing some of the songs with me. I looked over and her parents were bawling - crooked smiles. Crying their eyes out. I was so perplexed. She was laughing with her best friend and having a great time and her parents looked miserable!

After I finished my medley of Madonna songs - her parents jumped up and down and clapped enthusiastically. NOT DURING my performance but AFTER. Her mother walked me to the door. She shoved a hundred dollar tip into my hand and I still could not get WHY she was so happy to give me all this money when she had been crying for the past 20 minutes. She thanked me a hundred times over... and here the gig paid only $35.00 at that time. So a hundred dollar tip was REALLY huge to me. Well, I am glad that she told me the deal AFTER my gig because as she walked me to my car, she explained to me that Their oldest 16 year old daughter had committed suicide two months earlier.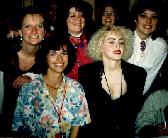 She said she and her husband were terribly concerned about their 13 year old - concerned that she would do the same and that this was the FIRST time she had actually smiled and laughed since her sister's death. I felt weak in the knees. I felt so good that I had made such a positive experience for this family yet - when I realized the responsibility - the HOPE this family apparently wanted me to accomplish for them... ...had I known earlier - all this was going on - and they were "counting on me" to cheer up this girl it would have been amazing pressure for me - especially because I was someone who had never done this particular character or act before.

From that point on I felt a certain pride in the work I was doing. I could never trivialize it because I found that you NEVER know just what a gift you are bringing to someone when you are able to make them forget their worries and pain and get them to smile. Once in a while I have had a few people snicker at this type of work and say something like "Gee, I hope they PAY you well enough to do THAT" (in a condescending manor)... and I think to myself... If they only KNEW...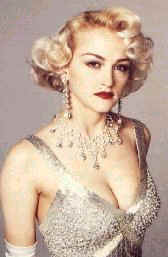 Thank you, Chris, for sharing some of your world with us! Want to read more? The full interview with Chris America will grace the inside pages of our next issue of "Everybody". In it, you will learn more about what Chris has experienced as a look-alike, including her own brush with Madonna herself! She also provides pointers for other aspiring wanna-be's and a special message to Madonna fans! You don't want to miss it! Pre-order by emailing me here.
If you would like to contact Chris America, send email here. Thank you, Chris!
We will also be sharing another exclusive interview with Madonna impersonator, Denise Bella Vlasis, in the near future. Stay tuned!


Powered by geekbox.org