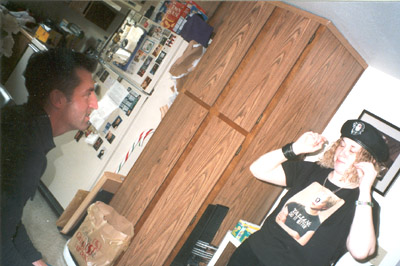 Michelle models her black beret for her friend Gary!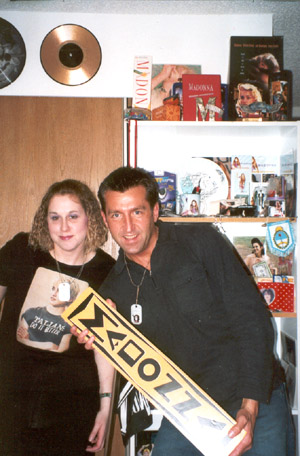 Michelle and Gary strike a pose by Mariam's collection!

Michael Reeves, Mariam Ayub, Gary, and Michelle Basart pose in their finest for the Seattle party!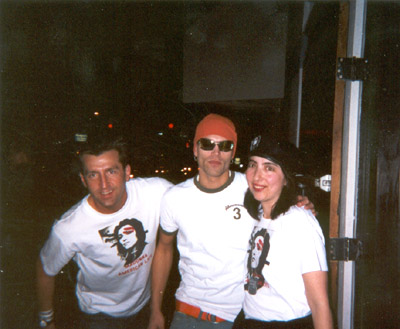 what a great treat to meet up with Sean Paul! Gary, Sean, and Mariam strike a pose.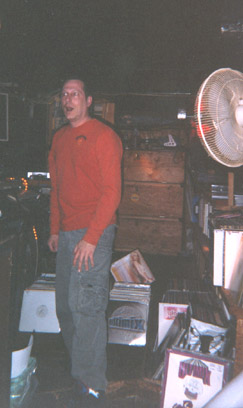 DJ Randy Schlaeger spun beats, including Michelle's Madonna mega-mix at the bottom right!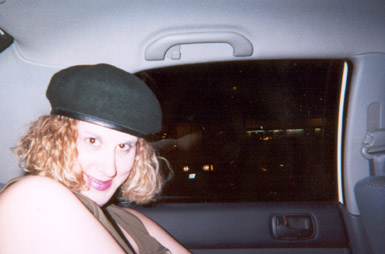 Michelle got cozy for our Madonna remix listening party in Sean Paul's car!

Working up an appetite led us here, but there is more Madonna partying on the way! Portland, here we come!
What a whirlwind it has been with all these Madonna promotions! TV interviews, new releases, merchandise, sitcoms, videos and more. Madonna has been everywhere we turn, but this time, she added something new to the mix - WB-sponsored parties in practically every big city and country her music could travel to. Both Seattle and Portland were lucky enough to join in on this excitement and Everybody gives you a front row seat at what went on. Here's the scoop -
The first party was in Seattle on Saturday, April 19th and Michelle and I couldn't wait for it! She arrived at my apartment Friday night and we prepared. After all, there's a lot of promotion that goes on getting the word out about the club! Soon, it was Saturday and Michelle's friend Gary made a visit to my apartment to meet me, check out my collection, and see the "American Life" video, of course. ;) After that, we took off for the mall to get our appropriate tres' chic army gear and put our name down for a cool American Life vinyl banner (which we ended up getting!) We met up with our friend Michael there and dished about all things Madonna. Then, it was time to go home and get ready.
Michelle had me decked out in the album cover garb with a cool homemade T-shirt and black beret. I added my own homemade dog tags (which were a big hit!) and accessorized. Michelle had on the green look with a cool army dress shirt and the green beret. Finally, we were ready for a night on the town so we headed to the club, Neighbours on Broadway in Seattle. Gary and Michael met us there and after a trip to a DJ vinyl shop, we went in and posed by the cool poster (see pic).
The place was pretty empty when we got there, but there were record flats, postcards, and mini-posters everywhere. Cool! We then took a trip upstairs to meet up with DJ Randy Schlaeger who would be spinning that night. He was impressed with Michelle's vinyl collection and gave us very cool "American Life" wristbands to wear to win prizes. We chilled out some more and met a few fans who we dished with, then the newest version of the video was played on the big video screen while the Missy remix was played. Very cool! Soon after, they played a Madonna medley Michelle brought and we all got out on the dance floor.
DJ Randy started calling up wristband numbers and I ended up winning the Missy promo remix CD while Gary and Michelle also both got full-size posters. Great loot! However, the music was lacking as hardly any Madonna got played. Our disappointment was soon overshadowed by an even greater surprise.
We met up with Madonna impersonator Sean Paul. He was supposed to perform that night, but there was a mix-up. Anyway, as it turns out, Sean Paul was the impersonator we met (in full garb) at the first concert in Oakland we went to! We were so happy to meet up again and decided to hang out in his car and have our own Madonna party listening to the cool remixes he had made. A trip to Dick's burgers rounded out our night and we headed home happy for second chances and fun-filled nights! We are ready for Portland!
The Portland will be part 2 of our special coverage of Madonna mania next week - look for it!