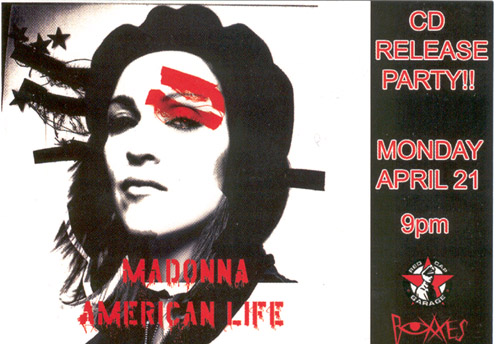 Great ads like this adorned the Portland festivities!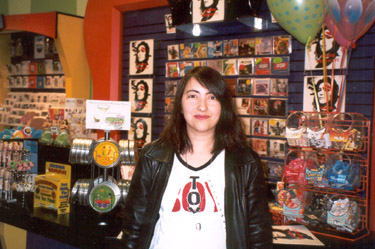 Mariam poses in Gary's store!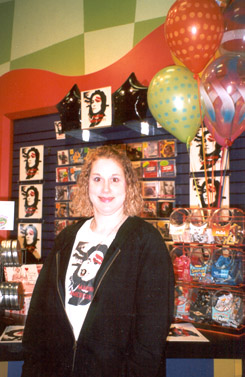 Michelle shows her American Life pride!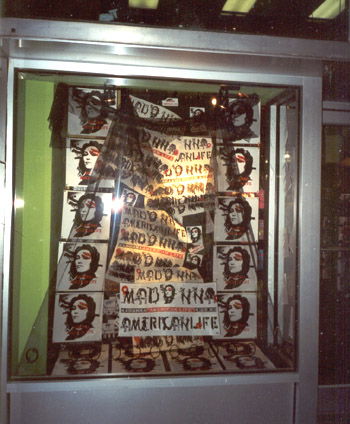 Gary did a fantastic job with his storefront!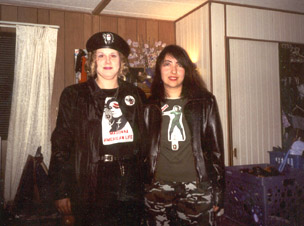 Two gals ready for a night on the town!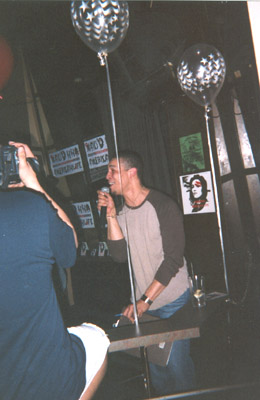 DJ Alex got the party started!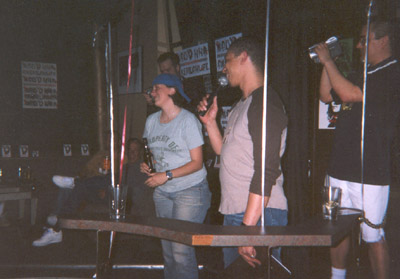 Many tried their hand at the hard trivia questions!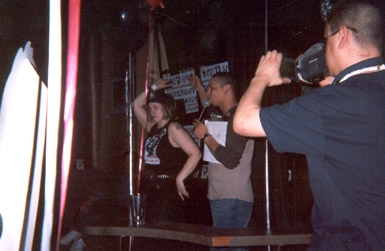 Michelle struck a Madonna-like pose when she was up!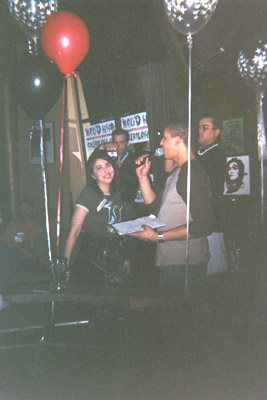 What a great thrill to win the grand prize!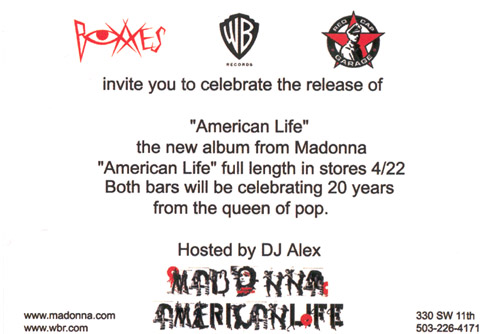 With the help from Funky DJ ALEX and many Groovy Portland Fans the WB Official Sponsored Party at BOXXES Downtown Portland on Monday night 04/21/03 was the GREATEST MADONNA PARTY THE NW HAS EVER EXPERIENCED!

After Saturday nights party at Neighbours Nite Club in Seattle we were happy to have scored some promotional American Life items like the postcards, flats, big Poster & liner, and the Missy Elliot promo remix CD. In Seattle we were also excited to have met up with Madonna Ghetto Fabulous Impersonator SEAN PAUL again totally by Chance. I went up to the DJ Randy Schlaeger early that night when we first got there mentioning that there were a group of us here from the NW Madonna EVERYBODY Fan Club and gave him some of my Madonna Vinyl mixes to play. He hooked us up with the first 10 numbered American Life wristbands. Thank U RANDY! He told me that he would call the numbers during the night and score us some of this cool Madonna Promo stuff. DJ Randy also told me that there would be a Madonna Impersonator performing that night named SEAN PAUL. At that moment I knew there was a reason I recognized his name, but not realizing it was from the first OAKLAND Drowned World Show September 5th, 2001 with whom Mariam took a picture of me with. Anyway, because of some communication problems Sean Paul did not Dress up like Madonna that night. BUT Michael, Mariam, Sean Paul, Gary & I still made the most FUN of the night having a MADONNA GOOD TIME! Cause we the FANS know how to PARTY and have a GOOD TIME just Chillin, Dancin, and Speaking the Madonna Language of LOVE! But we were let down a bit with not much Madonna Music played at the Seattle Madonna Release party even though I had made the effort to bring some Madonna Vinyl for DJ Randy to Play. But Portland's Madonna WB Sponsored American Life CD Release Party MADE UP FOR ALL THAT!

Mariam and I headed down to Portland from Seattle Sunday evening around 6pm after celebrating her mom Patricia's Birthday/Easter Party. We headed down in my car listening to the whole American Life CD and the AWESOME CD Mixes that SEAN PAUL gave us Saturday night when we retreated to his car for our own Madonna music party after we left the Neighbours Nite Club. SEAN PAUL's CD Mixes were totally Wonderful by the way! So we got our Groove on like Funky Chicks in my Green Honda Civic on our way down to my house in Portland.

Much to showing our age Mariam and I slept in Monday morning. Boy were we tired already. We got ourselves up in time though to go see the most AWESOME American Life Window store display being created by our friend Gary at his Gift card & CD selling store BALLOONS ON BROADWAY downtown Portland. Gary & his coworker Charlie Did a FABULOUS Job promoting & honoring our LADY MADONNA in his FUNKY AMERICAN DREAM window Display. It's amazing what a TRUE FAN can do in creation of an art form that he loves! After taking some excellent pictures of Gary's AWESOME window Display and helping in scoring some more cool American life made Dog Tags by Mariam for Gary to give to some of his Madonna fan friends at the club that night, we then ran off to the Mall once more to get some cute shirts made & outfits put together. Then It was time we headed home to get ready to PARTY once more! BUSY, BUSY, BUSY! When it comes to The EVERYBODY FAN TEAM the party never stops when it comes to Loyal and Dedicated Madonna FANS!

Mariam and I met up with Gary for dinner at the GREEK CUISINE Restaurant downtown Portland at 7:30pm. Well we were supposed to anyway... like any girl getting ready for a Madonna EVENT we were running late.GO FIGURE! So it was actually close to 7:45pm when we got there. That's ok, cause to our delight Gary was late too! We ate dinner and could not seem to eat it all for we were having so much fun just talking about Madonna and everything that was going on around us on the TELE and with the Whole Original American Life video being shelved. Everyone loves to talk about what she does and does not do. We just can't wait to share the love for her with other fans! So after some dishing on Madonna & her wonderful new album and getting some doggy bags to go we headed off to our TRES FABULOUS PORTLAND PARTY!


Much to our surprise when we got to BOXXES nightclub at 9pm it was almost jam packed. We couldn't believe it. It was like there was a fan in every corner of the club and we were in MADONNA HEAVEN! The Seattle Party was nearly Empty on Saturday night at 9pm. We got our American Life wrist bands as we walked in and got stamped. Immediately one of my coworkers from US Bank (Kyle) noticed me at the club and said that I should have known you would be here tonight! Being Madonna night. He knows that I'm a huge fan! We talked for a bit and wished each other a good time and then headed off to order a drink and mingle about. Gary went off to give his friends the cool American Life Dog Tags that Mariam Made. I think this made him very popular that night! But I think the next thing I'm about to talk about made the three of us even more popular that night!

At dinner we told Gary that we should ask DJ ALEX (Alex Broderson) if he can play at the BOXXES nite club the extra copy on VHS that Mariam made of the ORIGINAL American Life video. (A special THANK YOU goes out to her Boyfriend for this. U know who u are!) We wont mention how we got this to save us from scrutiny, but it is from a German TV Show airing of the video before it was shelved. The quality is not the Greatest, but it still ROCKS! And would most likely have won an MTV video award for Bravery Alone! Guess MTV should start a new Category for music videos PREVENTED from being Released! Anyway, when they played the video that night EF Hutton did not speak.IT WAS MADONNA! Not a pin drop could be heard as we watched everyone get quiet to listen and watch Madonna's REAL new Video that NOONE has been Allowed the FREEDOM to see! Mariam & I grew VERCLEMT and felt like we were about to cry for seeing everyone's first reaction to her video and being the ones to bring it to them & to share the experience with them at the club that night! WE FELT THE LOVE! Big time!

After they showed the video they had a Madonna Quiz Contest to win Prizes, although they had not received the Box from WB yet. So we were to write our name and phone numbers down on the list of winners. DJ ALEX Hosted this party, Contest Quiz and did a wonderful job at it too. He was the life of the Party! Both Mariam and I luckily had the chance to answer a question and with help from each other got them right! SEE, EVERYBODY Fan Club TEAMWORK WORKS! Mariam's Question was "What is Madonna's Eye Color?".. Blue/Green. My Question was What is Madonna's Favorite of her own songs?"Live to Tell.

Read more down below!!!